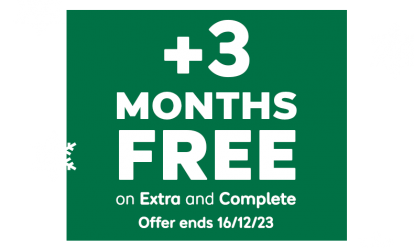 With 12 months of cover, new customers get an extra 3 months for free*.
*Added after 12 months, excludes Basic cover. New customers only. Ends 16/12/23, 7am.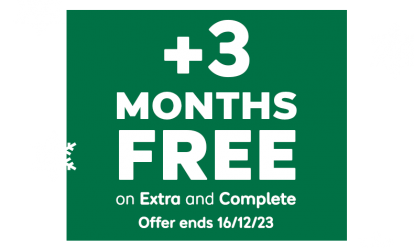 BY ANDY ENRIGHT
Introduction
Mitsubishi have a rather unconventional way of going about the business of manufacturing cars. Whereas rivals like Nissan, Mazda and Toyota have a rigid, pragmatic view of exploiting new markets, Mitsubishi seem to operate in a quirkier fashion, introducing some models that leave you scratching your head while others are utterly fantastic. The Outlander 4x4 seems to meld in a mix of both attributes. It's certainly not your average compact 4x4, offering sleek styling and powerful petrol engines, but the market for such vehicles is a small slice of the overall pie. Tracking down a used example may be tricky, but if you want something with the cachet of rarity value, the Outlander makes a very definite statement.
Models
Models Covered: October 2003 to date: 2.4-litre petrol five-door [Equippe, Sport, Sport SE]
History
Mitsubishi aren't bounded by conventional thinking when it comes to all-wheel drive vehicles. They have the Shogun to cater for the traditional green welly brigade and beyond that, their designers have been given considerable leeway down the years to develop interesting alternatives. The Shogun Sport/Challenger offered a flatter, more dynamic take on the Shogun theme, while the Pinin miniaturised the 4x4 into a piece of real estate better suited to the urban jungle. Various exotic Pajero models have filtered into the UK via various channels but it wasn't until the launch of the Outlander in 2003 that Mitsubishi had a genuinely state of the art small 4x4. An all new Outlander arrived in 2007.
What You Get
The Outlander offers a healthy dose of style along with a chassis and running gear borrowed from the all-conquering Lancer Evo VIII rally replica. Straight away, you appreciate that this is no ordinary compact 4x4. The styling will certainly turn heads. It's not cutesy like so many small 4x4s. The slab-sided flanks and imposing front are reminiscent of a scaled down Porsche Cayenne and like the bruiser from Weissach, many will move over when the Outlander hoves into their rear view. The car has been developed from the ASX (Active Sport Crossover) vehicle that proved such a hit at the 2000 Detroit Motor Show. Mitsubishi describe the styling as 'robust' but the overall philosophy revolves around firstly offering the low centre of gravity of a saloon car with the raised seat height of an off roader allied to the luggage space of an estate. It's quite a target but the Outlander looks capable of satisfying these tough design criteria.
All Outlander models come extremely well stuffed with equipment. Even the entry-level Equippe features ABS and EBD, driver and passenger front and side airbags and climate control. Tack on a four speaker single slot stereo radio/CD sound system, central locking, alarm and keyless entry, electric front and rear windows with anti trap function and split folding rear seat and the deal looks very tempting. Mitsubishi aren't done. The Equippe also boasts electrically adjustable heated wing mirrors, colour-coded rear spoiler with high mount stop lamp, 16inch five-spoke alloy wheels, leather-wrapped steering wheel and gearlever and integrated roof rail. That's quite a tally. The Sport model then adds an electric sunroof and fixed rear skylight with blinds, six speaker single slot CD sound system, colour-coded electrically adjustable wing mirrors, black wood-effect dash panel and integrated front fog lights. The range-topping Sport SE gets all of the above plus leather front and rear seats.
What You Pay
Please fill in the form here for an exact up-to-date information.
What to Look For
Most Outlanders won't have covered too many miles, and there have been no serious faults reported. As with any all-wheel drive vehicle, listen for whining gearboxes and differentials; look for leaky power steering, engines, gearboxes and driveshaft joints, off road abuse, tailgate and underbody corrosion and theft or accident damage. The Outlander's rustproofing is excellent but any damage caused by enthusiastic off roading or (as is more likely) a tussle with a concrete pillar in a multi storey car park is a big negotiation opportunity. The 2.4-litre engine seems ultra reliable.
Replacement Parts
(Based on a 2004 Equippe) A replacement exhaust (front to the catalyst) will set you back roughly £285, while a new clutch will be around £215. A replacement alternator should be around £175 and a starter motor about the same. A new wing mirror is in the region of £165, while a headlamp is an eye watering £240.
On the Road
At present, only one engine is offered, a 158bhp 2.4-litre petrol unit that features MIVEC (Mitsubishi Innovative Valve and lift timing Electronic Control System) that offers a similar benefit to Honda's well-known V-TEC system - gutsy torque at low revs and all-out power at the top of the rev range. The result is a top speed of 112mph and a sprint to 60mph in 11.2 seconds that would be respectable for a manual engined compact 4x4 but even better when you consider that all Outlanders are equipped with an INVECS-II automatic gearbox.
The big flaw in Mitsubishi's marketing plan for this model appears to be the lack of a diesel version, but the Outlander has something of an ace in the hole in the form of Dual Fuel versions which run not only on regular unleaded but also have the capacity to run on Liquefied Petroleum Gas. Priced at £1,000 above the price of the normal cars, these offer huge fuel savings - at least until the Chancellor decides to 'review' the duty payable on LPG. For the time being at least, you get diesel style fuel bills with the smoothness and power of a petrol engine. Tracking down one of these models will be difficult - but well worthwhile.
The other aspect of the Outlander's on-road character can be traced directly back to Lancer Evo VIII DNA. The Outlander's mechanical permanent four-wheel drive system has been borrowed from the Evo series and features a centre differential with a viscous coupling unit that under normal conditions distributes the available torque equally between the front and rear axles.
Overall
The Mitsubishi Outlander probably isn't going to be the first name you pencil in on your list when shopping for a used compact 4x4, but it bears closer scrutiny. As long as you don't mind the steepish insurance and fuel bills that are part and parcel of Outlander ownership, the car has much to commend it. It's very well built, appears to be faring reasonably well in terms of depreciation and is both stylish and pleasantly thin on the ground. Getting hold of a bargain may prove tough but don't dismiss it out of hand.