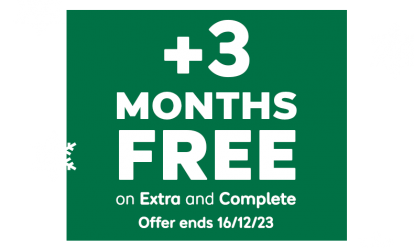 With 12 months of cover, new customers get an extra 3 months for free*.
*Added after 12 months, excludes Basic cover. New customers only. Ends 16/12/23, 7am.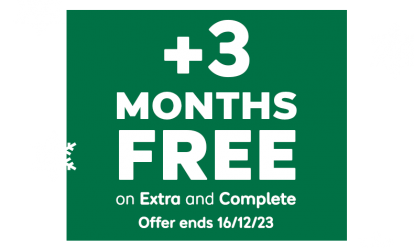 One thing Mercedes' V-Class MPV certainly isn't short of is space. Jonathan Crouch reports on the current version.
Ten Second Review
The Mercedes-Benz V-Class is one of the very biggest and plushest MPVs you can buy. As a people mover in the truest sense, it's only real competition comes from other large, van-based MPVs - or public transport. If you want to take up to eight people and their luggage in a vehicle that makes a very high quality statement, then it's a difficult option to ignore. Yes, it has commercial roots, but in this improved form, they're very well disguised, with both interior and exterior styling and finish having progressed considerably. If you want to carry seven or eight people and all their luggage - and do so with a bit of class, then this vehicle's worth a look.
Background
There aren't many alternatives open to you if a really sizeable People Carrier is needed for up to eight people. And if that MPV must make a really sizeable statement of quality, the options reduce to just one: this Mercedes V-Class.
Like its direct competitor, Volkswagen's Caravelle, the only way that this V-Class can offer up to eight seats and appreciably more space than is already available from cheaper Ford Galaxy or Volkswagen Sharan-class large People Carriers is to be van-based. In this case, on a Mercedes Vito. That might not be the biggest van that Stuttgart makes but it's quite large enough to create in the V-Class a very large MPV indeed. And a more sophisticated one these days that boasts sharper looks and more frugal engines that promise lower running costs. So how does it all stack up? Let's find out.
Driving Experience
The key change made to this revised V-Class model is the switch beneath the bonnet from the aging 'OM651-series' 2.1-litre diesel to the much more up-to-date 'OM654-series' 2.0-litre diesel that already features across most of the rest of the Mercedes line-up. There's also a fresh gearbox across the range, as the old seven-speed transmission is replaced by a nine-speed automatic. The 2.0-litre, four-cylinder powerplant is offered in a couple of states of tune. The V220d has 163hp and 380Nm of torque - which is enough for a 0-62mph time of 11.0 seconds and a top speed of 121mph. The more potent V300d has 239hp and 500Nm of torque, although it can deliver 30Nm of 'over-torque' beyond this figure for short periods; it can manage the 0-62mph dash in 7.9 seconds and goes on to a top speed of 137mph.
There's also an all-electric EQV variant. Here, a 100kWh lithium-ion battery develops a 201hp total output with 362Nm of torque and can offer a claimed driving range of up to 213 miles between charges. As with most Evs, the top speed is rather limited - in this case to 98mph.
Across the range, in our market, we can't have the four-wheel-drive variants on offer in mainland Europe. But Mercedes has tried hard to optimise the ride and handling package that its biggest People Carrier can offer. Hence the standard 'Agility Select' system that allows you to tweak throttle response, gearchange timings and feedback from the 'Direct Steer' speed-sensitive steering to suit the way you want your V-Class to respond. Plus there's 'Agility Control' adaptive suspension, a set-up able to tweak the damping to suit road conditions. Ultimately, all these efforts aren't really enough to make the dynamic experience on offer here in any way rewarding, but the overall compromise is decently impressive by the moderate standards of the super-sized MPV class.
Design and Build
Like its predecessor the Viano, this V-Class is based on a van, Mercedes' Vito LCV model, though that said, it's a lot more car-like these days. Especially in this revised form where there's a revised front bumper and a smarter diamond structure in the radiator grille. Overall, while a commercial vehicle with windows can only be styled so far, you have to say that this latest V isn't a bad looking thing for a big box. The headlights are fashionably smeared back, the grille looks agreeably assertive and even the slab sides have had some swage lines and shape built into them. You don't buy a V-Class for its sexy styling though. You buy it for its space and solidity. As ever, there's a choice of three body lengths - 'Standard length', 'Long' and 'Extra Long': we'd suggest you go large, not least because you have to have the 'Extra Long' version to be able to seat up to eight people rather than merely seven folk.
Whatever variant you go for, you'll be impressed by the way that Mercedes has clearly worked at improving the look and feel of the cabin, with fine Nappa leather finishes available and a simple but extremely elegant dashboard that has more than a hint of S-Class about it. In this regard at least, it's like no van you've ever seen before. This revised model features air vents in the more sporty 'turbine look' familiar from the A-Class, plus the dials have been re-styled in the instrument cluster. As standard, this MPV will be offered with three rows with six seats, but seven-seat and eight-seat layouts will be available across the various lengths of vehicle. In addition to this functionality, Mercedes now offers the possibility of 'luxury seats' in the second row. These are like the items in the S-Class, so they will be able to recline fully as well as offering back massage and ventilation.
Very little effort is required to move the individual seats and benches fore and aft or to position them in the quick release seat rails. There's also a standard separately opening rear windscreen which is handy in tight parking spaces. You can also spend a little extra and go for the powered EASY-PACK tailgate which can be opened, closed and stopped in any position electrically. If you're not too tall, I'd recommend ticking this box as the tailgate is quite a reach when open.
Market and Model
Prices start at around £56,000 and there's a choice of three bodystyles ('Standard length', 'Long' and 'Extra Long') and two trim levels ('Sport' and 'AMG Line'). There are two diesel engine options too (there are no petrol variants), buyers choosing between 188 and 236hp versions of the brand's 2.0-litre turbo unit. Either way, you have to have a 9G-TRONIC PLUS automatic gearbox. There's also a Marco Polo camper version. The other alternative is the all-electric EQV model (only offered in Extra Long form), but you'll need from £70,000 upwards for one of those.
Mercedes has provided this V-class with a whole host of safety and driver assist systems, although the majority are offered as options. A huge number of driver assistance systems are available, based on radar, camera and ultrasound sensors, which were introduced in the E-Class and S-Class under the name "Mercedes-Benz Intelligent Drive". The standard equipment includes Crosswind Assist, which stabilises the V-Class in strong gusts of crosswind, and ATTENTION ASSIST, which can warn of inattention and fatigue. Optionally available is Active Park Assist, which takes the guesswork out of parking the V-Class.
Also optionally available are the 360-degree camera, Distronic Plus proximity control in conjunction with Collision PreventionAssist, Traffic Sign Assist with wrong-way warning, Lane Keeping Assist, Blind Spot Assist, the LED Intelligent Light System and Adaptive Highbeam Assist. Most of these assistance systems are available in this MPV segment for the first time. The Pre-Safe system familiar from the passenger car models is available as an optional extra. When an accident threatens, it initiates protective measures to ensure that the belts and airbags offer optimum protection during a collision. Standard equipment includes an Audio 20 stereo with USB in and a free-standing seven-inch central display, plus a three-spoke multifunction steering wheel with 12 function keys.
Cost of Ownership
The running costs of the V-Class are bound to come under close scrutiny. Many will be run as company vehicles and so-so economy, emissions and depreciation just don't cut it with corporate clients. The V220d doesn't disappoint, registering gains in fuel economy of around 13% over the previous model. Mercedes reckons that in this base form, this MPV should return between 36.7mpg and 37.7mpg on the WLTP combined cycle. It's only fractionally less for the V300d. The CO2 figure is 197g/km either way. Obviously the figures will vary a little depending on engine tune, length of vehicle and wheel size.
The all-electric EQV uses a 100kWh lithium-ion battery that can offer a claimed driving range of up to 213 miles between charges. The length of time those charges take will vary as usual on the type of charging point you visit. With an AC charging 11kW charge point, which is what you'd have with a garage wallbox and is the kind of thing you'd find at most public charging stations, your charging time from empty to full in an EQV would be around 10 hours. Find yourself a fast charging station though, with a DC charging 110kW supply, and your EQV could be charged from 10-80% in just 45 minutes.
V-Class residual values ought to stand up well, as this car pioneers a rare market niche, namely one for a full-sized van-based MPV that feels anything but van-like. So you get loads of space but a properly club-class feel. That sort of formula sounds as if it will have legs and the efficiency measures future proof it to a reasonable degree.
Summary
This V-Class may occupy something of a forgotten backwater in the Mercedes product range but it's still a model that makes a lot of sense. In fact, assuming that you can't face budget-brand transport and don't want something that's very obviously a minibus, we'd argue that there aren't too many options to V-Class motoring if you need to transport up to eight people in the kind of style to which they'd doubtless quickly like to become accustomed.
With its rare combination of spacious seating and generous luggage capacity, this Mercedes is a paragon of practicality, beautifully bridging the gap between MPV and minibus. What it all boils down to is that if you want a car, buy a car. If though, you need a People Carrier, buy one that can really do the business. The V-Class is part of a small but very select breed of models answering that calling. Go on: go large.