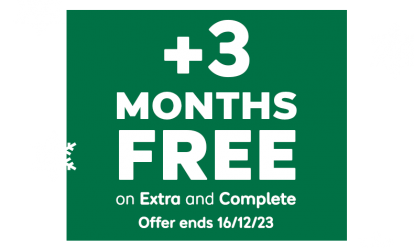 With 12 months of cover, new customers get an extra 3 months for free*.
*Added after 12 months, excludes Basic cover. New customers only. Ends 16/12/23, 7am.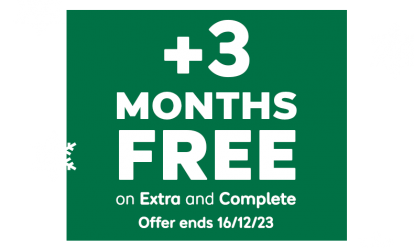 By Jonathan Crouch
Introduction
The Mercedes-AMG GT Roadster is a deeply desirable convertible performance sportscar that built purposefully on the heritage of its SLS predecessor. It's uncompromising, intoxicating and very, very fast.
Models
2dr Convertible (4.0 V8 petrol)
History
If you've always dreamed of an exotic V8-powered performance sportscar, it's likely that you've also dreamed of it in convertible form. So between 2017 and 2023, the Three-Pointed Star offered us this, the Mercedes-AMG GT Roadster. You'd like one wouldn't you?
The GT model was originally launched in Coupe form back in 2015 as part of a line-up finally completed a couple of years later when this Roadster variant made its debut as part of changes to the range that also included the introduction of high performance GT C derivatives. This open-topped design built upon quite a bloodline of landmark Mercedes sportscars, one that went all the way back to the achingly beautiful 300SL Gullwing that first made its appearance back in 1954 at the New York International Motor Sports Show. It quickly became first choice for the famous, everyone from Grace Kelly to Sophia Loren, and the version most wanted was the Roadster model that arrived in 1957, one of the most desirable convertibles ever made.
The Stuttgart maker referenced that car extensively in creating two of its modern-era performance sports convertibles - the SLR Roadster of 2007 and the SLS AMG Roadster of 2013 - and did so again in creation of this Mercedes-AMG GT Roadster. The brand insisted that this cabrio variant was no after-thought in the GT line-up, pointing out that its design was conceived at exactly the same time as that of the Coupe GT model. As with that fixed-top derivative, it was fashioned around aluminium spaceframe underpinnings, was powered by a potent 4.0-litre twin turbo V8 engine and used the same 'AMG SPEEDSHIFT DCT' 7-speed paddleshift transmission. It was also hand-built on the same bespoke Sindelfingen production line.
There was initially a smaller choice of models than with the Coupe: just the 476hp GT, the 510hp GT S and the 550hp wider-bodied GT C. A 585hp GT R model was added in 2019. Limited edition GT 530 and 'Night Edition' models arrived in 2020 and lasted until the end of production. All Roadster variants used the top GTR Coupe's underbody air management system and offered a 3-layer fabric hood that could be deployed in 11 seconds at speeds of up to 31mph, plus there was a wind deflector and the brand's usual Airscarf system. This GT Roadster model left production in mid-2023 and the replacement model was only available as a Coupe.
What You Get
Any high performance sportscar must be an eye-catching thing. The old SLS Roadster certainly was and, like that car, this open-topped GT model makes quite an impression at first glance. It's shorter and narrower than that previous Mercedes-AMG design, with aesthetic aggression that's ramped up several more degrees. Get one of these in your mirrors and you'd move over - and quickly.
We should talk about the fabric convertible roof - it's quite a piece of work. Available not only in black but also in red or beige, this triple-layer top operates via a button just above the windscreen, takes only 11 seconds to activate and can be raised or lowered at speeds of up to 31mph. The hood is supported by a lightweight structure using magnesium, steel and aluminium, which helps to keep the centre of gravity low. It folds cleanly in a compact Z-shape into the area behind the seats, the central roof section neatly doubling up as a tonneau cover for the roof compartment.
Take a seat behind the wheel and the SLS underpinnings are betrayed by the way the designers have had to retain that car's huge over-sized central transmission tunnel, which comes in a choice of high-gloss or carbon fibre finishes. In a nod to the V8 engine up-front, this centre section features eight 'AMG DRIVE UNIT' control buttons laid out in a V-formation.
It's deliciously unnecessary to have as many as four jet engine-style chromed vents at the top of the centre stack, but it looks great and adds to the whole 'aviation'-style theme. Just above these sits an 8.4-inch 'COMMAND Online' infotainment screen that's far more cleanly integrated into the dash than it is on most other Mercedes models and features the usual sophisticated graphics that make those of every other rival system look dull and cheap. Anything the infotainment display can't tell you will be covered off by the smaller colour screen that nestles between the two deeply-cowled dials offered by the instrument binnacle.
And out back? Well impressively, the 350-litre capacity on offer is exactly the same as you'd get with the Coupe body style and isn't affected by the position of the roof.
What You Pay
This GT Roadster model is actually a lot more affordable than its predecessor the SLS Roadster, which is difficult to find today for under £150,000. Early GT Roadster with less than 50,000 miles on the clock in contrast, can be found at well under £50,000. Prices start from around £49,500 (around £55,750 retail), which gets you a base 476hp entry-level model on a '17 plate. You'll need around £65,000 for the preferable 550hp GT C model, on a '17 plate (around £73,500 retail). The GT S starts from around £71,000 (around £82,000 retail0 on an '18-plate. The rare GT R version which arrived in 2019 values around £114,000 mark on a '19-plate (around £126,750 retail). For one of the last GT Night Edition models on a mid '23-plate, you'll need from around £111,600 (around £124,750 retail). All quoted values are sourced through industry experts cap hpi. Click here for a free valuation.
What to Look For
Servicing is required every 12,500 miles. We've not come across any issues with the fabric folding hood but obviously check its operation thoroughly, ideally running it through a car wash to identify any leaks. There are some recalls you should know about. GT models built between May 2018 and the end of October 2019 were recalled to address a potential leak from a turbo oil feed line. And there was a need to update the ECU software on cars built from the start of production until March 2017. There was a recall on cars built between April 2018 November 2019 to sort out an ESP control unit software issue. There was a recall on the software for the radio control unit on cars built between February 2017 and July 2019. And another recall was needed to replace the front seat belts on cars built between July 20 17 March 2018. We came across hard-to-pin-down problem with the Lane Assist system, so make sure that it works properly on the car you're looking at.
Check those huge, expensive-to-fix 19 or 20-inch AMG alloy wheels for scratches and nicks. Otherwise, it's the usual things here; interior trim and electrical issues were the most commonly afflicted things that came up. Check for uneven panel gaps and paint flaws. Inspect the electrics and the air conditioning functionality - it should blow our really chilled air. Obviously insist on a fully stamped up service book.
Replacement Parts
Replacement Parts
(approx based on a 2020 GT S - Ex Vat) An air filter can be anywhere in the £13-£75 bracket, depending on brand. An oil filter is around £6-£12. A fuel filter is around £3-£10. A pollen filter's in the £11-£22 bracket. Front brake pads start from around £25; rear's start from £35-£45 upwards. Rear steel brake discs sit in the £60-£102 bracket. Alternators start from around £200 and you'll need from about £186 for a good water pump. A fuel pump's around £20.
On the Road
This GT Roadster gets a lightweight triple-layer fabric hood that can be operated in just 11 seconds at speeds of up to 31mph and has been built into the bodyshell without much noticeable reduction in structural rigidity. As with any AMG model, it's the engine that defines this car, a 4.0-litre biturbo V8 offering 476bhp in the base 'GT' version, 510bhp in the 'GT S' variant, 557bhp in the GT C variant and 585bhp in the top GT R version: the GT C and the GT R get a clever rear axle steering system for greater high speed stability and quicker corner turn-in. It's a glorious-sounding powerplant with a lavishly intoxicating soundtrack that never lets up as you power to 62mph in around 4s en route to a top speed that would be around 190mph on a track or an empty autobahn. All this frantic potential is harnessed by an 'AMG SPEEDSHIFT DCT' 7-speed paddleshift auto gearbox with transmission toys that include a 'RACE START' launch control feature and software that blips the throttle on downshifts to the evocative accompaniment of popping and banging from the switchable AMG Performance exhaust system.
The exhaust note is one of the parameters influenced by the various settings of the car's 'AMG DYNAMIC SELECT' driving mode system, this being one of those set-ups that can alter throttle response, steering feel, gearshift timings and stability control thresholds to suit the way you want to drive. There's an optional 'AMG RIDE CONTROL' adaptive damping system that's standardised further up the range and is well worth having for the way it can smooth out this car's ride at speed over bumpier surfaces. It's on roads like these that you'll also appreciate this car's rear axle differential lock, a feature that's electronically-controlled on top models for quicker response.
Overall
An exclusive, money-no-object German performance sportscar was once a thing of the Fifties. Hollywood film stars drove them back then, but in the modern era, you'd surely have something low-slung and Italian. Or would you? This Mercedes-AMG GT model changed things in this sector, especially in this Roadster guise. It's dynamic, it's desirable and, best of all, it's different.
In an age when pin-up performance cars often excite more jealousy than passion amongst passers-by, this one just makes them smile. You get the thumbs-up as you power on and when you arrive and park up, kids want to take pictures. The world seems a better place. This, you see, is something very special. A sportscar with soul.