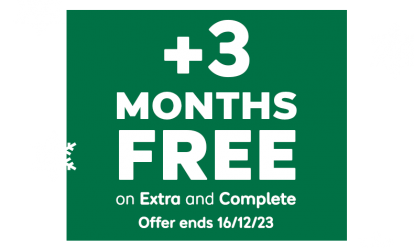 With 12 months of cover, new customers get an extra 3 months for free*.
*Added after 12 months, excludes Basic cover. New customers only. Ends 16/12/23, 7am.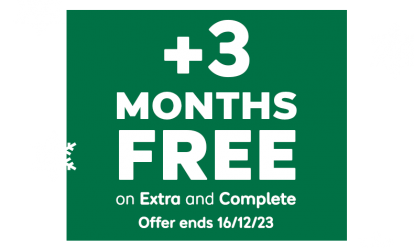 If you're torn between a coupe and a hatch and prioritise style in a compact family car, Kia's Proceed could fit the bill. Jonathan Crouch takes a look at the revised version.
Ten Second Review
Once a small coupe, Kia's Proceed is these days a small estate - but a very stylish one. It sells alongside the brand's Ceed Sportswagon estate but offers swoopier 'shooting brake' styling to create a 'Fastback' look with that 'want one' factor. The brand promises that the drive dynamics will match the aesthetic promise too. Let's check out the revised version.
Background
Kia calls this Proceed a 'Shooting Brake'. Isn't that just another word for an 'estate car'? Well no, not really. A Shooting Brake, in contrast, is more of an occasional and much more stylised load-lugger, loved by sportsman - and especially shooting parties (hence the name) - from the 1950s and 1960s, particularly here in Britain. A kind of 'estate coupe' if you like, which is why virtually all 'shooting brake' designs from the last century had only three doors. Princess Anne's Reliant Scimitar GTE from the Seventies was one of these, with similar cars like the Lancia Beta HPE, the Jaguar XJS Lynx Eventer and the Volvo 1800ES dating from the same era.
In more recent times, the 'Shooting Brake' concept has made a comeback with designs like Ferrari's FF. But you'll know it better perhaps from two Mercedes models, 'Shooting Brake' versions of that Stuttgart brand's CLS and CLA models. It was the CLA Shooting Brake that prompted Kia to produce this stylish Proceed derivative.
Driving Experience
Gone are the days when Kia was content to merely try and reach a minimum class standard when it comes to drive dynamics. Ex-BMW M-Chief Albert Biermann, who during the creation of this car was Kia's Head of handling development, spent six months with his team fine-tuning this Proceed and the brand promises that you'll feel the difference, even on a very short test drive.
Revisions over the Ceed Hatch and Sportwagon include a body lowered by 5mm, plus a rather counter-intuitive combination of stiffer springs and softer anti-roll bars to keep the tyres in better contact with the road surface. At speed, you realise immediately that the set-up's firmer than it would be in a normal Ceed but at the same time, the car flows over uneven tarmac with supple confidence. And when the road turns twisty, the consistent and relatively feelsome steering delivers enough feedback to encourage a more aggressive driving style, should that be appropriate.
There is now just one engine option, a 158bhp four cylinder 1.5-litre T-GDi powerplant mated to 6-speed manual transmission. In terms of handling updates for this facelifted third-generation model, Kia's largely left the set-up alone, which is fine by us, as that was one of this model's strongest aspects. Engine noise is enhanced by a soundtrack emphasised through flaps in the exhaust and delivered into the cabin through the stereo speakers.
Design and Build
If you're going to sell on style, you have to make an effort and, sure enough, the Proceed shares only the front wings and bonnet with other Ceed body styles. The roof line is 43mm lower than on an ordinary Ceed SW estate and 5mm longer, plus the windscreen is 1.5-degrees more steeply-raked and the rear window is slanted 65-degrees off the vertical. This improved model gains visual changes at the front end, including grille changes and a revised headlamp design, all in line with the improvements made to the rest of the Ceed range, but it still features more aggressive front bumper styling than you'd see on any ordinary Ceed. And what the designers call a 'coast to coast' look for the rear that unites the LED tail lamps with the double exhaust pipes. And you get smart 17-inch wheels.
Inside, it actually feels quite special, especially with the mandatory 'GT-Line' trim, which features leather and Alcantara sports seats with red-stitching and GT-Line badging. There's a sporty flat-bottomed steering wheel and black roof lining. In this revised model, a large 12.3-inch instrument cluster screen is paired with a 10.25-inch screen to further enhance driver interaction with the vehicle. Unfortunately, as before, rear vision out of the sloping rear window isn't great. Rear legroom is much as you'd find it on a more ordinary Ceed model. Headroom though, as you might expect from a 'Fastback coupe', is slightly more limited. There's a 594-litre boot, which is just 31-litres less than you'd get in the ordinary Ceed Sportwagon estate.
Market and Model
Proceed pricing, pitched from around £27,000, sits about £1,000 above what you'd pay for an equivalently-specified Ceed Sportswagon model. And it primarily comes with Kia's premium sporty trim level, 'GT-Line' and manual transmission (though a plusher DCT automatic 'GT-Line S' version's also available if you want it). So what about rivals? Well there is only one direct one, the Mercedes CLA Shooting Brake, but that has a much smaller boot, less equipment and costs considerably more.
'GT-Line'-spec comes with quite a lot - 17-inch wheels, privacy glass, front fog lamps, auto headlamps and wipers, power-folding heated mirrors, a rear spoiler, rear parking sensors, an alarm and LED rear lights with a full-width LED brake light. Inside, 'GT-Line' variants get seats trimmed in a combination of black cloth and faux leather, dual-zone automatic air conditioning, a heated steering wheel, heat and powered lumbar support for the front seats, cruise control with a speed limiter, an auto-dimming rear view mirror and stainless steel pedals.
There's also 'smart' keyless entry, a 12.3-inch colour instrument cluster display screen and the kind of space saver spare wheel that many rivals make you do without. Connectivity's taken a step forward with this car in recent times too - not only with a larger 10.25-inch centre stack monitor but also with telematics. The brand now offers its 'Kia Connect' smartphone app which allows customers to connect remotely with their cars. A new 'User Profile Transfer' feature enables users to back up their in-vehicle Kia Connect preferences via the cloud and transfer settings from one vehicle to the next.
Cost of Ownership
This Proceed needs to be reasonably affordable to run to interest likely buyers and the figures seem to stack up acceptably well. The 1.5 T-GDi petrol engine achieves 48.7mpg on the combined cycle and 131g/km of CO2. As usual with Kia, a strong buying incentive is much-trumpeted 7 year / 100,000 warranty which, like the 'Care-3' servicing packages, is transferrable to future owners. However, it is worth pointing out that the warranty only offers unlimited mileage for the first three years you own the car; thereafter, you'll have a 100,000 mileage restriction. If in future, the car is sold through a Kia Used Approved Dealership when less than 18 months old or with less than 18,000 miles on the clock, the warranty will be topped up to match that of a new model.
You'll also need to know about likely residual values, which are a lot higher than they used to be on mainstream Kia models. Independent experts reckon that after three years and 60,000 miles, most ProCeed variants will still be worth 41% of what you originally paid. Insurance is group 16E.
Summary
You probably won't have started out wanting a Proceed in searching the market for something a bit more stylish and interesting that suits your family needs. Now that you know about this model though, it's possible that it might ideally suit a desired combination of desirability and sensibility in a relatively affordable versatile compact family car. We'd still have hesitated to recommend it a few years ago though, given the vanilla way that Kias back then tended to drive. But that's all changed now.
This model's 'shooting brake' concept may be a nod to past hunting wagons of the landed gentry but the concept here is very much of our time: a compact yet spacious estate that doesn't drive like one, that's nicely finished, practically configured and relatively affordable to run. It's very much an estate for people who wouldn't normally buy such a thing. And that makes it quite a tempting prospect.