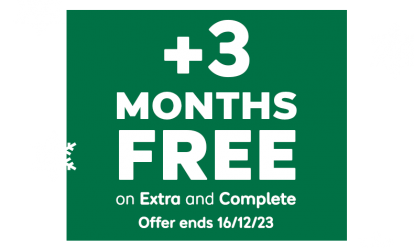 With 12 months of cover, new customers get an extra 3 months for free*.
*Added after 12 months, excludes Basic cover. New customers only. Ends 16/12/23, 7am.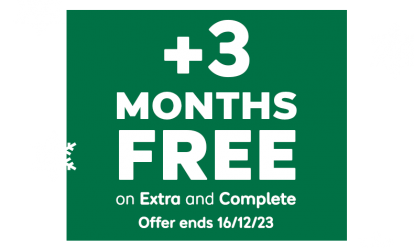 By Jonathan Crouch
Introduction
In its third generation guise, Kia's Ceed further sharpened its proposition in the Focus-class family hatchback segment, with smarter looks, extra technology, a rejuvenated range of engines, stronger standards of safety and, most importantly, a far more dynamic driving demeanour. As before, value continued as a strong suit and as usual, there was an industry-leading warranty. Potentially then, there's a lot to like here for the used buyer. Here, we look at the original 2018-2021-era versions of this model.
Models
5dr hatch / SW Estate (1.0 T-GDI, 1.4 T-GDi, 1.6 CRDi [1, SR7, 2, 3, GT])
History
If you want to better appreciate just why Kia is one of the world's fastest growing automotive brands, you've only to look at the Ceed family hatchback. The Slovakian factory that builds it only opened its doors in 2006 yet by 2018, over 1.3 million Ceed models had been built. It was the task of this more stylish, dynamically able third generation version to try and ensure that this momentum continued.
Automotive historians will look back at the original first generation version of this car, launched in 2006, as a landmark design, the first to take on the European and Japanese market leaders squarely on their own terms in the volume Focus and Golf-dominated Family Hatchback sector. Built in the heart of Europe, it was targeted at the heart of the European motor industry, hence the unusual 'Ceed' name, a combination of the French abbreviation for European Community (CE) and this car's project title (ED). It shamed the established players by matching their quality while massively undercutting their prices and offering an astonishingly long 7-year warranty. A strong sales performance followed, kick-starting this Korean brand's emergence as a motor industry force to be reckoned with. That's been one of the enduring industrial stories of the early part of the 21st century, right up there with Google, Apple and Facebook - and every bit as impressive.
But times change - and so do market segments. Increasingly, family hatchback buyers are being tempted away into Qashqai-like family SUV models, while the customers in this sector that remain are targeted by European and Japanese brands that have now learned to take the Korean motor industry a lot more seriously. Kia, of course, has responded to this. Its own mid-sized SUV, the Sportage, is a strong Qashqai-class alternative and the cee'd was re-launched in more sophisticated second generation 'JD'-series form in 2012 and then substantially updated in 2016, before this MK3 range was introduced in mid-2018. The silly apostrophe that previously featured in the cee'd name was dispensed with by 2018, but the relentless attention to detail that characterised the design of those previous models was prioritised just as much.
A lot was expected here, for this car throughout its lifetime had to take on all-new versions of its segment's two heaviest hitters, Ford's Focus and Volkswagen's Golf. In response, Kia's used many of the same people who created their sleek, dynamically-performing Stinger GT flagship model to try and transform the rather uninspiring looks and forgettable handling of this car's predecessor. There was an all-new 'K2' platform to undergird it all, along with new engine technology, improved connectivity and a big step forward in camera-driven safety provision. Plus, for those not wanting the straightforward five-door hatch body style, there's the option of a stylish new 'shooting brake'-style station wagon-like body shape bearing the 'Proceed' name, along with the usual conventional Sportswagon estate variant and a potent GT hot hatch. The Ceed sold in this form until mid-2021, when it was significantly facelifted. It's the pre-facelift 2018-2021-era models we look at here.
What You Get
You could say that it's relatively easy for Kia to showcase its new-found sense of style on low volume halo models like the Stinger. A mainstream family contender like this one is a sterner test of the brand's commitment to cutting-edge aesthetics, a policy presided over by design chiefs Peter Schreyer and Gregory Guillaume. What they served up here falls short of being truly arresting, but it was a useful evolution over the previous model, being lower and wider than the car it replaced. In terms of upgraded looks, most of the effort went into the front, with its wider 'tiger nose' grille and lower air intake. From the side, you get more of a perspective for the bolder, more horizontal shoulder line, something even more evident on the alternative Sportswagon estate version of this model.
At the wheel, you get higher standards of cabin quality than with previous Ceeds and a more horizontally-orientated fascia gives the cabin an airier, more spacious feel. It's split into two sections; a lower area, housing controls for audio, heating and ventilation. And an upper region, dominated by a centre colour touchscreen, available in either 7 or 8-inch sizes and offered with the usual smartphone-mirroring features. Getting comfortable is easy, thanks to plenty of seat and wheel adjustment, along with lots of cabin storage space. A smart three-spoke wheel feels good to hold and through it, you view a clearly-designated instrument cluster with an informative centre screen
In the back. Kia claimed a 34mm increase in shoulder room - there's a class-leading 1,406mm of it. That, along with the notable low centre transmission tunnel, means that a Ceed can in this form more comfortably accommodate three rear adults than most of its segment rivals. And the boot. There's 395-litres on offer here, around 15-litres more than you'd get from either the previous generation Ceed or from a class favourite like a Golf or a Focus. Opt for the stylised Proceed shooting brake model and the luggage area size grows to 594-litres, while on the boxier Sportwagon estate, it's 625-litres.
What You Pay
Please fill in the form here for an exact up-to-date information.
What to Look For
We had quite a lot of trouble finding anyone with a bad word to say about this MK3 Ceed. So it's just the usual stuff. Give the electrical systems a thorough test and make sure the central screen has had all its necessary map updates. Check the alloys for scuffs. The interior for child damage. And insist on a fully stamped-up service history. Previous Ceeds weren't great for paint quality, so check that. And if you're looking at the CRDi diesel, make sure the DPF Diesel Particular Filter hasn't clogged up with too much suburban and town driving. Careful questioning of the seller's driving habits should help here.
Replacement Parts
(approx based on a 2018 Ceed 1.0 T-GDi ex VAT) An air filter will be priced at around £40, an oil filter will sit in the £11 bracket and a pollen filter costs in the £21 bracket. For a pair of front brake discs, you're looking at paying in the £142 to £240 bracket, with a pair of rear discs costing up to around £98-£152. A pair of front brake pads are around £60-£142, while a pair of rear pads sit in the £84 bracket for a set. A wiper blade can cost anything between £11-£16.
On the Road
With earlier Ceed models, there was always plenty of potential for a class-leading dynamic performance. The Ceed has, after all, long had a more sophisticated suspension system than most rivals offer in their mainstream guises. Instead of the crude old torsion beam rear-suspended set-up you'd find on an ordinary Focus or Golf, this Kia has always been fitted with the kind of more sophisticated multi-link rear damping system that Ford and Volkswagen Group rivals reserve for pricier, more powerful versions of their family hatchback contenders. And with this MK3 model, that set-up was embellished with the kind of bespoke-engineered handling set-up you might not expect in this corner of the market. It was all built on a much stiffer 'K2'-series platform and garnished with feelsome power steering aided by a torque vectoring system that helps to get the power down through the bends. The result was a slightly firmly-suspended car. But one that we think you'll genuinely enjoy driving.
If all that's of limited interest to you, then other Ceed attributes will assume greater importance. Like the fact that this is one of the most refined cars in its class from this period, something helped by the emphasis the Korean brand put on reducing vibration from its refettled range of engines - even the diesel ones. The 'U3'-series 1.6-litre CRDi unit makes its presence known only over about 3,000rpm and offers willing performance from its 114bhp output - and decent efficiency too; 74.3mpg on the combined cycle and 99g/km of CO2 in its frugalest form (both NEDC figures). Later versions of this pre-facelift MK3 Ceed featured Kia's clever 'Ecodynamics+' 48V mild hybrid diesel technology. If your focus is on petrol power, then it's quite likely you'll be looking at the base three cylinder 118bhp 1.0-litre T-GDi unit - or possibly at the 138bhp four cylinder 1.4-litre T-GDi powerplant. On all the four cylinder units, there's the option of a 7-speed DCT dual clutch auto gearbox if you want it. And there's a 201bhp 1.6-litre T-GDi GT hot hatch variant at the top of the range.
Overall
The originator of the Ceed model line had promise. Its successor didn't quite fulfill that but, in many respects, this more dynamically-orientated MK3 model did. We'd still rate the rival Ford Focus as best-in-class to drive - and there's also something very solid and pleasing about the way a Golf goes down the road. But this third generation Ceed got to within touching distance of these two class leaders. It was the first mainstream Kia model we found ourselves genuinely looking forward to driving.
In future, to make another significant step forward, this model line needs a more up-market cabin, a more eye-catching look - and probably a bit of more advanced autonomous driving tech too. Some of these things are provided by the facelifted version of this MK3 model that was launched in mid-2021. If budget limits you to an earlier version of this third generation design though, there's still much to like. We think a significant number of family-orientated buyers in this segment will agree with us that this MK3 Ceed represented a Korea move for the better.