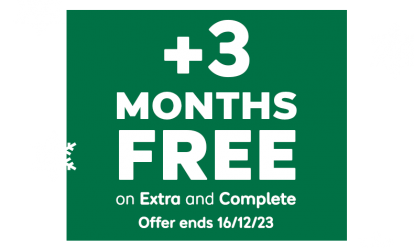 With 12 months of cover, new customers get an extra 3 months for free*.
*Added after 12 months, excludes Basic cover. New customers only. Ends 16/12/23, 7am.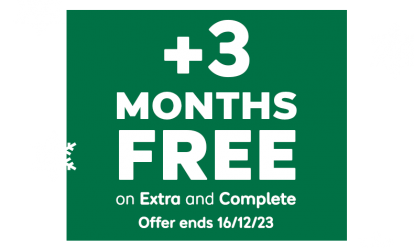 By Jonathan Crouch
Introduction
The sixth generation version of Ford's Fiesta van which sold between 2009 and 2018 was aided, like its predecessors, by a platform based on the brand's great handling Fiesta supermini. Obviously, the carrying capacity isn't huge but if that's not an issue, this could be a great little good value urban delivery runabout.
Models
3dr Van (Petrol - 1.25 80PS / [Diesel - 1.4 TDCi 75PS / 1.6 TDCi 90PS]
History
We've had Fiesta van models in the supermini-derived van market since 1976. By 2009, it was time for the sixth generation version and, like its predecessors, it competed most directly with the Vauxhall Corsavan and, to a lesser extent, with supermini vans from Fiat and Peugeot.
Once upon a time, the small van market was completely made up of supermini-derived models like this one but in recent times, most buyers have been drawn towards purpose-designed small vans that aren't constricted by passenger car styling and so can offer much larger carrying capacities without taking up any more road space.
Ford's Transit Courier (also Fiesta-based and launched in 2014) is a good example, as are models like Citroen's Nemo, Peugeot's Bipper and Fiat's Fiorino. If you really need carrying capacity, models like these are a better bet - but then, if you really need that, should you really be considering a very small van in the first place? If having considered that, you conclude that your needs are less cubic capacity-orientated, then this MK6 model Fiesta van might prove to be a very effective used LCV choice.
What You Get
A payload range from 490kg to 515kg (significantly more than a Peugeot 207 van but a little less than a Vauxhall Corsavan) gives customers a competitive option for transporting their products. The rear side windows are replaced by body-coloured solid panels, and the rear passenger seats have been removed to provide a load box area of 1,000 cubic litres, with a maximum useable load length of 1,296mm, as well as a maximum load box width of 1,278mm (1,000mm between the wheel arches) and a height of up to 806mm.
The styling of this MK6 Fiesta van will win it many admirers and operators looking for a compact van that will cut a dash on the city streets will like the wedge-shaped front end as well as the curvy rear. There was also a Sport Van variant with a more dynamic body kit. The cabin is similarly avant-garde in its design, with a dashboard control interface based around that of a mobile phone and a clever choice of quality materials.
In terms of practicality, you won't be buying a supermini-derived small van if interior space is everything. That point made, it's also worth saying that this Ford does at least enable its owner to make good use of the space that is on offer. DIN-compliant tie-down hooks are standard but if you forget to use them - or simply can't - then a half-height composite bulkhead is standard to prevent loose items from sliding forward and joining you in the front.
Running costs are always of great interest to business users and they're essential reading for fleet managers who see slight differences in these figures compounded over a whole fleet. Both diesels return a combined fuel economy figure of 67.3mpg with impressive CO2 emissions of 110g/km. The petrol variant manages 49.6mpg on the combined cycle and 133g/km of CO2.
What You Pay
Please fill in the form here for an exact up-to-date information.
What to Look For
If you're looking at a 1.4 diesel, then open the bonnet while the engine is cold. If there's a strong smell of fuel, then the injector leak-off pipes may have failed. They will need replacing, and that is enough to justify a £280 price cut. If the vehicle's done more than 70,000 miles, check that a lower auxiliary belt service has been carried out. If there is no evidence that it has, then get the vehicle's owner to reduce the price by £300. No matter which Fiesta van derivative you're looking at, if the coolant level is low and there are splashes of water at the front of the engine or on the ground underneath, then the water pump could be faulty.
Check whether the diesel Fiesta Van you're looking at was fitted with a particulate filter - some were, some weren't. Look out for the particulate filter warning light on the dashboard failing to go out after the engine has been started and staying on throughout your journey. Listen out for rubbing or chafing from the front suspension, especially if over speed bumps. That suggests that the front anti-roll bar bushes need replacing - it's a £200 job.
At the same time check that the ride is totally level and that the van's nose isn't sagging at one corner. If it is, then one of the front springs may have snapped, work costing £375. Ensure that the heating/ventilation system's booster fan is working properly. If it runs erratically then the motor will need replacing so press for a £200 discount. With any used van, you should of course examine the vehicle's paperwork carefully and the service history in particular.
Replacement Parts
(approx based on a 2013 Fiesta Van 1.25 - Ex Vat) An air filter costs around £10-£17 and an oil filter costs around £4-£7. Front brake pads sit in the £21 to £50 bracket for a set. Front brake discs sit in the £55 to £82 bracket for a set. Wiper blades cost in the £10 bracket. Try not to damage the rear lamp cluster; a replacement unit costs in the £48-£52 bracket. A timing belt costs in the £11 to £22 bracket, while a water pump costs in the £40 to £52 bracket. A radiator can be had for around £77-£92.
On the Road
On the road, if you're familiar with the previous generation pre-2009 MK5 Fiesta van, your experience should be that this model has a more solid feel, despite the fact that it's 40kgs lighter. Electrically assisted power steering made its debut on this generation model, technology that has come on leaps and bounds in the last few years, the feeling no longer being as if you were at the wheel of a PlayStation. We particularly like the 'Stall Prevention' feature, designed to help in low speed manoeuvres by altering the engine's ignition profile and preventing that embarrassing stalling moment when there's a queue of traffic behind you.
With most vans, operators will choose diesel power without even thinking about it but with one this small likely to cover very restricted mileages, petrol might still be a viable option, so it's just as well that the 80PS 1.25-litre unit on offer is a pleasant one - and much quieter than the 1.4 and 1.6-litre Dagenham-built common rail injection TDCi diesel options. A key component of the Fiesta passenger car's makeup is its enjoyable driving dynamics and the van version inherits these. Expect lively handling and first rate manoeuvrability married to a more comfortable ride than owners of the previous generation Fiesta van will have experienced.
Ultimately though, it's hard to go too far wrong with any of the Fiesta powerplants, all of which reek of clever, thoughtful design. We particularly like the 'Stall Prevention' feature, designed to help in low speed manoeuvres by altering the engine's ignition profile and preventing that embarrassing stalling moment when there's a queue of traffic behind you. You can't even fill up with the wrong fuel thanks to the misfuel protection device that also does away with the need for a fuel filler cap.
Overall
Ford knows exactly how to build a class-leading supermini-derived van - and did with this MK6 model Fiesta LCV. But then, with a passenger car product as good as the Fiesta to base it on, you'd think that the van version's designers had very little to do to complete an excellent product.
Perhaps the best part about this commercial vehicle is that it doesn't look like one. All the style that marks out the Fiesta car has been transferred over intact - and that should make it a good advert for the kind of small businesses (florists, gardeners and so on) likely to want a vehicle of this kind. Imagining your company logo on the doors? Then you'll know what to do.