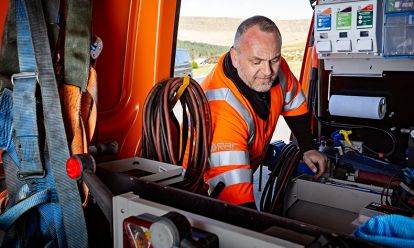 You can get covered in our half price sale from just £5.75 a month.* We're the UK's best breakdown cover provider as voted for by Auto Express drivers 2021.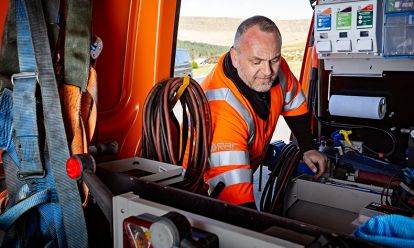 BY ANDY ENRIGHT
Introduction
The Ford Escort Cabriolet was the car that brought open top motoring to the masses. If you're looking for an affordable used soft-top that will seat four in comfort and can do without temperamental engines and rusty bodywork worries, Ford's Escort Cabriolet may be a good way to go, especially if you're operating on a tight budget. One thing you won't be short of is choice, as there are literally thousands out there. We limit ourselves here to the cars sold between 1990 and 1998, but it's worth remembering that Ford had already manufactured over 100,000 Escort Cabriolets prior to 1990! Track down a good one and you've got yourself a good buy, but you'll need to tread carefully to avoid the dross.
Models
Models Covered: Mk V [1990-1993] 1.3, 1.4, 1.6-litre petrol [i, XR3i, Dash]. Mk VI [1993-1995] 1.6, 1.8-litre petrol [Si, Silhouette, Mistral, Solar]. Mk VII [1995-1998] 1.6, 1.8-litre petrol [Si, Calypso, Ghia]
History
The Mk V Escort was launched to muted acclaim in 1990, the Cabriolet model choice being either a 108bhp 1.6i or a 105bhp catalysed version. It's fair to say these cars weren't the high point of the Escort Cabriolet evolution, and in February 1992 Ford revived the XR3i badge, this time with a Zetec 1800cc engine. A 1.4-litre 60bhp Escort Dash Cabriolet followed in June of that year, but few were tempted.
The model range was thoroughly facelifted in Spring 1993. Some refer to these models as 'Mk V Facelifts' although most prefer to call it the Mk VI. It could be identified by the oval grille on the front end and revised styling around the grille and tail lights. The 130bhp 1.8-litre Si model was the first to join the fray, quickly followed by the 90bhp 1.6-litre Silhouette, Mistral and Solar editions.
The major change to the Escort Cabriolet range came in 1995 with the introduction of the Mk VII or 'Escort 95'. With additional body strengthening measures this version was well worth the wait. Another new bonnet and grille were inflicted on the car although in this instance it did improve the looks considerably, the more rounded frontal aspect looking more integrated than the slightly contrived Mk VI. Again, the mainstream Si model acted as lynchpin of the Cabriolet range, the 130bhp 1.8-litre engine being augmented by a 115bhp version in September 1995. That same year a Calypso model was introduced, powered by the 90bhp 1.6-litre powerplant. Well-equipped Ghia versions followed in 1996, powered by the 115bhp 1.8-litre Zetec units. Automatic models were offered for the first time, in either Calypso or Ghia trim, powered by a 90bhp version of the 1.8-litre Zetec engine. Production of the Ford Escort Cabriolet finished in late 1997, although dealers still registered cars right onto 1998 S registrations.
What You Get
If you want a cabriolet for little more than trundling about soaking up the sun, the Mk V and VII models are well worth a look. The new car market received a major wake up call in the early nineties as many company car buyers got to choose their own vehicles. Fords that were obviously built down to a price could no longer cut it in this marketplace and the Blue Oval's response was the 1995 Mk VI car. This was a car that once more appealed to private as well as business buyers, particularly important when regarding soft-top sales.
Having said that, the Cabriolet isn't just another Escort. Manufactured by Karmann in Germany, many of the panel fits are of a far higher quality than standard tin-top versions and the hoods are well engineered. Still, it seems hard to believe that Princess Di once owned one.
What You Pay
Refer to Car & Driving for an exact up-to-date valuation section. Click here and we will email it to you.
What to Look For
Although you may see a huge number of badly modified cars, tracking down a decent Escort Cabriolet shouldn't be too difficult. The main thing to check for is the condition of the hood. Make sure you check the hood for signs of rips and discolouration. They can often be folded away during a test drive to hide things like bent spars. Check the head linings for water staining and examine the stitching. Cars fitted with power hoods should be carefully examined and the hood operated at least a couple of times by the owner.
Escort Cabriolet bodywork is usually good, but check for accident damage and check the lower lips of the doors and boot lid. The engines are usually pretty tough, especially the rugged CVH unit. If you hear rattly tappets and see excess blue smoke emanating from the tail pipe when you gun the engine, that's advance warning of top and bottom end wear and your cue to make your excuses and leave.
Gearbox synchromesh problems are manifest on Mk V and Mk VI models with first gear sometimes being difficult to find. Brake discs are prone to warping, whichever version you choose. Steer clear of cars with impractically coloured interiors.
Replacement Parts
(approx based on a 1992 Escort 1.4 Dash Cabriolet) As you might expect, parts are plentiful and relatively inexpensive. A clutch assembly is around £90. Front dampers are in the region of £30 each and a set of rears around £30 each. Front brake pads are around £30, a rear and centre exhaust are about £30 and £40, a catalyst about £235. An alternator is around £170 and a tyre around £40. A starter motor is just under £95, a front wing about £50, a door mirror is around £45 and a tail lamp is about £30. A headlamp is about £60, a radiator is about £160 and a windscreen is around £65.
On the Road
Try to stretch to a 16-valve version. You need a reasonably long test drive to find out why. For a start, the Zetec unit's much quieter than the ageing engines that soldiered on in the previous models. It's also got a great deal more pulling power - which means fewer gear changes - and is more efficient - which means better performance and improved fuel consumption. You'll be able to enjoy a normal conversation with the hood down up until around 40mph but after that it's gritted teeth time.
Late in the Escort's life, Ford added deadlocks to complement the key code security system. This security feature can be linked to an alarm/engine immobiliser that responds to any attempt to open the doors, bonnet or boot, hot-wire the engine or steal the radio. Not all diesel versions have the same security precautions as the petrol variants, so make sure you check.
Overall
With no-nonsense engineering and a wealth of affordably priced spares available, the Ford Escort Cabriolet is probably the lowest cost and lowest risk route to getting behind the wheel of a soft-top car. It's worth spending a little extra for a post 1995 edition, but even in an early car you'll soon see why the Escort Cabriolet was so successful. It may not be the most stylish Cabriolet on the road, but on the right road in the right weather, it can almost make you feel a million dollars. Well, a good few hundred at least.