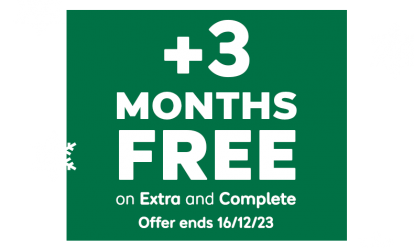 With 12 months of cover, new customers get an extra 3 months for free*.
*Added after 12 months, excludes Basic cover. New customers only. Ends 16/12/23, 7am.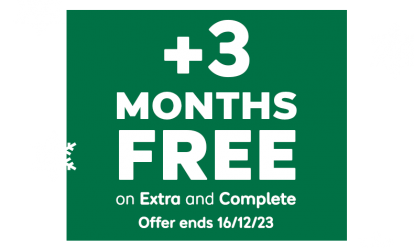 By Jonathan Crouch
Introduction
With Crossover models now accounting for over 30% of the premium compact hatchback market, it's long been important for aspiring brands like DS to offer buyers something targeted towards this segment. In 2015, this Crossback variant of the DS4 hatch aimed to meet this need, with its higher ride height and SUV styling cues. It was targeted at Surbiton rather than the Serengeti, but offered the required lifestyle vibe. Does it make sense as a used buy?
Models
5dr hatchback (1.2, 1.6 petrol, 1.6, 2.0 diesel)
History
Qashqai-style Crossovers now fill our roads, family hatchbacks with a touch of the Outback about them. But is it really necessary for a car maker to design a product from scratch in order to compete in this growing market niche? Back in 2015, the French DS brand reckoned not, bringing us this car, the DS4 Crossback.
If the ordinary DS4 model didn't exist, you might see this as a very credible kind of compact Crossover from the 2015-2019 period during which it was produced. As it is, we know that this was merely a DS4 in a pair of hiking boots - though unlike some supposedly 'proper' Qashqai-class models, it did at least have an effective traction aid to help in slippery winter conditions.
From the DS marque's perspective, there's everything here that you need in a compact Qashqai-class Crossover - and nothing you don't. And the 'everything you need' bit includes PureTech petrol and BlueHDi diesel engines that were class-leadingly efficient in their period. Plus this Crossback variant got a strong standard of media connectivity for its time, thanks to DS4 series embellishments like a 7-inch infotainment touchscreen that incorporates Apple CarPlay and Mirror Link media connectivity.
So, an intriguing package? If you think so, you'll want to know that this car sold until 2019 and wasn't replaced. And can be had at affordable prices - though it's a rare find.
What You Get
This Crossback version sits 30mm higher than its standard-model counterpart, but you'll otherwise find the other alterations relatively difficult to spot. Brownie points for you if you clock this more adventurous variant's silver roof rails and its gloss black finishing for the wheels, the front fog lamps and the front bumper trim. Like the ordinary DS 4 model, this one features brand-specific styling at the front, where the vertical grille proudly incorporates the 'DS Wings' brand logo and extends smoothly into headlights that feature 'LED Vision' Xenon technology on plusher variants.
Inside up-front, perhaps the most distinctive feature is the panoramic windscreen. Push back the roof panels where sun visors would usually be and you're given an almost unique 45-degree view upwards. Sticking with the individualistic theme, you can change both the instrument background colour and the style of the read-outs to suit your personal preference. The central speedo dial doubles as an information centre, offering speed, trip computer, audio and compass settings. Anything this can't tell you will probably be covered on the central fascia infotainment screen, this feature re-designed in this later 'DS'-badge version of this car to suit this model's more exalted DS brand status. It's a 7-inch colour touch-sensitive display with standard navigation, plus the usual audio, Bluetooth 'phone and trip computer options.
At the rear, there's a dark, rather restricted feel not helped by limited legroom and the narrow, tinted side windows, while the pared-back roofline will leave headroom at a premium for taller folk. Better, we think, to consider this car as the coupe the DS brand was determined it ought to be, making comparisons with something like a Volkswagen Scirocco more valid than those with, say, a Volkswagen Golf. Viewed in that light, it's all pretty practical at the back - and quite OK for two adults or three children, as long as the journey isn't too long. Indeed, if you're in that frame of mind, you might even be quite happy to forgive the fact that the rear windows don't open.
And out back? Well the boot has a high lip and a relatively narrow opening. Get your stuff inside and you'll find that it's 23-litres smaller than this model's Citroen C4 stablemate, but at 385-litres, is still slightly larger than the trunk provided in Alfa Romeo's Giulietta - or even in Volkswagen's Golf, plus there's much more space than you get in a Ford Focus or a proper coupe like that Scirocco model we mentioned.
What You Pay
Please fill in the form here for an exact up-to-date information.
What to Look For
We should start by pointing out that as a whole, DS4 owners are a very happy bunch. If your perception of DS / Citroens corresponds with unreliability, then it's time to change your perspective. The later post-2015-era DS4 range we're looking at here comes from a time when most of the original post-2011 model's teething issues had been sorted out. All that having been said, there have been faults reported and we found a number on our various surveys: you might want to look out for these on the used market.
The situation of the starter motor supply terminal might not conform to the correct specification and could short circuit against nearby components. Lower seatbelt mountings on the right hand side of the car might not be torqued to the right settings and could therefore detach in a crash, but this should have been rectified by DS dealers. There were early reports that an oil leak might develop from the turbocharger of some of the engines because a union retaining bolt was found not to conform to the manufacturer's specification. It was also found that the striker that holds the bonnet closed could corrode on some DS4s and would fail if left untreated, with the potential for the bonnet to spring open while driving. Check that the bonnet latches properly.
Replacement Parts
(approx based on a 2015 DS4 Crossback 1.6 BlueHDi 120) Parts prices won't break the bank, with an air filter priced in the £11 to £19 bracket, while a fuel filter costs around £20-£25 and an oil filter costs in the £8 to £11 bracket. A water pump will be priced in the £27 to £58 bracket, while a starter motor is around £110. On to brakes. Front brake discs retail in the £37 to £88 bracket; rears are in the £102-£114 bracket. A pollen filter is around £6-£21. A wiper blade is in the £14-£29 bracket.
On the Road
The Crossback version sits 30mm higher than its standard counterpart, giving you more of an elevated view, plus its extra suspension travel makes the otherwise slightly over-firm ride rather more absorbent. Otherwise, it feels pretty similar to the standard model and can seem quite sporty if you're minded to throw it around. And you might be. After all, body roll is well controlled and the car feels taut and quite responsive, with the whole experience complemented by a terrific six-speed manual gearbox.
Under the bonnet, the entry-level option is a 1.2-litre PureTech 130bhp petrol powerplant but the most popular engine was the most affordable 120bhp version of the 1.6-litre BlueHDi diesel unit that all black pump-fuelled DS4 models share. This is reasonably responsive - and decently economical too, managing 74.3mpg on the combined cycle and 100g/km of CO2 (both NEDC figures). Plus there was an efficient EAT6 auto gearbox offered for those wanting it. If you want more power, there's an auto-only BlueHDi 180 variant near the top of the range.
Overall
DS customers searching for a used car of this size who might perhaps be a touch disappointed that the brand never offered a purpose-designed Qashqai-class compact Crossover in its range during the 2015-2019 period may well be satisfied by this DS4 Crossback model. It looks the part and in many respects is classy enough to compete with the smarter German brands.
It's no off-roading tool of course, even if you do maximise the benefits of its 'Intelligent Traction Control' system - but then no car in this class really is. Of more interest to most potential owners will be individualised feel, the media connectivity and the efficient PureTech petrol and BlueHDi diesel engines that can be had beneath the bonnet. They characterise this car's more pragmatic approach to Crossover motoring. If that appeals to you, then you might well agree with DS that what we have here is a lifestyle-orientated family hatchback worth getting cross about.