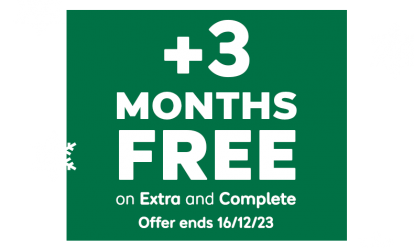 With 12 months of cover, new customers get an extra 3 months for free*.
*Added after 12 months, excludes Basic cover. New customers only. Ends 16/12/23, 7am.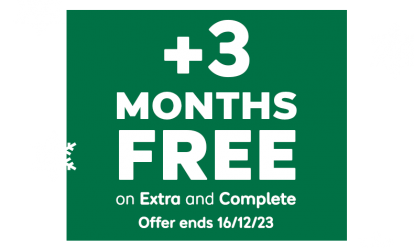 BY ANDY ENRIGHT
Introduction
How much road space do one adult and two kids need on the school run? The Renault Espace takes up 81.8 square metres and a Land Rover Discovery 103.1m. A used Daihatsu Terios will cast a shadow over only 60.1, the same as Toyota's baby Yaris. How can a proper 4x4 look this funky, be so manoeuvrable and yet so inexpensive? It's part of Daihatsu's aim to target buyers in the family hatchback market and offer them something completely different.
The 4x4 fashion market is still growing hugely, and the Terios has been one of a number of small 4x4s such as the Suzuki Jimny, Kia Sportage and Mitsubishi Shogun Pinin that have aimed to reap a share of it. The idea has been to steal sales from 'warm' hatches, mini MPVs and also from sectors where buyers were purchasing utility they didn't need. Part of the appeal is low pricing, and in the used arena this usually means nearly new cars at bargain prices. In this respect the Terios doesn't disappoint. Interested? Here's the background on Daihatsu's baby.
Models
Models Covered: 5dr 4x4, 1.3 petrol [Base, +, SE]
History
Though it sounds as if it could have been named after a mythical Greek God of Lifestyle 4x4s, Terios was in fact named after the Latin derivation of 'Ground'. In fact, ground zero for UK Terios sales was in August 1997, with two trim levels being made available, the base model and the Terios+. Both models shared the same 1.3-litre four-cylinder engine developing 82bhp. The following April saw the launch of a limited edition SE version, which was on sale until August.
Two months later, in October 1998, Daihatsu decided that the SE was, after all, a good idea, and installed it as a part of the range proper before withdrawing marketing support for it shortly afterwards. Since then the Terios range has remained largely unchanged, benefiting from a price cut of over £2,000 in autumn 1998.
The first major changes came in August 2000. This new model boasted styling that was a whole lot beefier, especially around the front end. There was a more aggressive looking grille, bigger bumpers, aerodynamic spoiler lips on the front bumper and revised headlamps. The most significant change however, was reserved for the engine - now a state-of-the-art 1.3-litre 16v all-alloy unit borrowed from Toyota's little Yaris. As well as revising the interior, Daihatsu also unveiled a different logic with trim levels. Out went the Terios and Terios+ designations: in came Terios E, EL and range-topping SL. A Terios Tundra special edition made a brief appearance but the range was thoroughly rationalised in April 2003.
The E model was dropped, the EL became the Tracker and the SL became the Sport. Prices were slashed and the Terios was in the best shape of its life. The all new Terios hit the streets in Spring 2006 replacing this model.
What You Get
You may have noticed the terms 'lifestyle', 'sports activity' and '4x4' being used a fair amount when discussing the Terios. One term noticeable by its absence is 'off-roader'. As you may have guessed, the Terios doesn't make a convincing case for itself as a rugged mud-plugger. The driver's handbook makes this abundantly clear, threatening all kinds of bodily injury should the vehicle be driven inappropriately. As this includes most heavy off road work, it is perhaps not surprising that the Terios isn't fitted with a low range gearbox. There is a differential lock that will enable exit from muddy fields, but that's about the extent of the Terios' off road remit.
As you would expect from a vehicle taking up less road space than a Toyota Yaris, the Terios is, as eighties estate agents once crowed, compact and bijou. It's narrowness - only 1715 mm - makes seating four people a task best reserved for intimate friends. There's a fair amount of standard equipment considering the price. A driver's airbag, power steering, central locking, an engine immobiliser, tinted glass and a Pioneer audio system all come as standard. The Terios + adds air conditioning, anti-lock brakes, a passenger airbag, alloy wheels, electric front windows and mirrors, plus stylish roof rails. All this plus the three-year unlimited mileage warranty that's standard on all Daihatsu models and which can be transferred to the new owner.
What You Pay
Please fill in the form here for an exact up-to-date information.
What to Look For
The Terios is a lightweight but hardy little beast, and no known faults have yet emerged. Should the previous keeper have decided that off-roading a Terios seemed a good idea, then do check the underbody for signs of damage. Concentrate on the suspension, exhaust and chassis, and make sure the steering and differential are still serviceable.
Of course, most Terios' will have led a more tranquil existence, though as with any car that may have been used to transport small children, check for rips and stains on the upholstery and damage to interior fittings. Otherwise, the usual reminder to obtain a service history applies.
Replacement Parts
(Estimated prices, based on a Terios) Nothing too terrifying when it comes to parts prices. A full clutch assembly will retail in the region of £130, and front brake pads will set you back around £45. A new Terios radiator will be £130, and a dead alternator will require £260 to replace. A new starter motor will be around £220.
On the Road
A word of advice when it comes to motorways. Don't. The Terios will be screeching like the backing track to a Black Sabbath album and expansion joints will make the little 4x4 bounce, the steering wheel kicking about in the hands. No, the best environment for a Terios is in the urban jungle, where its compact dimensions and low gearing allow it to zip through gaps and into parking spaces that would send most 4x4 owners round the block to look again.
On bumpy country lanes the Terios can induce the temptation to purchase an orthopaedic neck brace, but comes into its own when taking care of a light weekly shop or running the kids short distances to school. It's in these scenarios that thoughtful practical touches like the side-opening rear tailgate and underfloor compartments make a lot of sense.
Overall
As long as you are aware of its limitations, and there are quite a few, a Terios makes an inexpensive, stylish purchase. Unless your vehicle use is limited purely to short, urban hops, then the Terios is best purchased either as a second vehicle or not at all. Having said that, it's a well constructed, thoughtfully designed little car which is great fun if used for its design purpose.