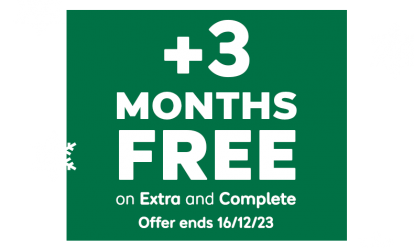 With 12 months of cover, new customers get an extra 3 months for free*.
*Added after 12 months, excludes Basic cover. New customers only. Ends 16/12/23, 7am.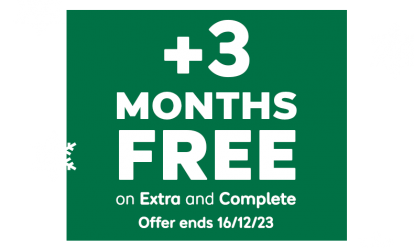 BY CLAIRE EVANS
Introduction
Drive along any country lane and you're bound to spot one: there's no doubt that the Daihatsu Fourtrak is the country-dweller's favourite 4x4. The reasons are simple. This unassuming mud-plugger is competitively priced, as tough as old boots and extremely competent in the rough.
The rather basic original model was not endowed with the most appealing road manners. However, this problem was addressed in 1993 with the introduction of an independent suspension system, which did wonders for its road-going ability. At the same time, the whole range benefited from an extensive revamp and the appropriately named 'Independent' trim level was introduced to help the Fourtrak appeal to a wider audience.
The ruggedness, which was the biggest appeal of the original, is still there though. The Fourtrak will seat the family, carry the odd chest of drawers and sail through a ploughed field as well as whisk you down to the local wine bar on a Friday night.
Models
Models Covered: First generation Fourtrak - 1984-1991 2.0 three-door [EL, GX] / 2.2 three-door [GX] / 2.8 [Diesel, Diesel Sport, DX, DL Sport, LE Turbo Diesel, TDX]. Second generation Fourtrak - 1991-1993 2.0 three-door [EL, GX] / 2.2 three-door [GX] / 2.8 three-door [TDS, EX, TD, TDL]. Third generation Fourtrak - 1993-to date 2.8 three-door [TDX Independent, TDL Independent, TDL-SE Independent, TDX-SE Independent]
History
The first Fourtraks arrived in the UK way back in 1984 and offered basic off-road petrol and diesel-powered transport in short wheelbase three-door form. For a few years (1985-1988) they were joined by Soft Top versions, but the derivatives we're looking at here are the sturdy yet stylish Estates.
In 1990, all models were treated to uprated brakes, exhausts and transmissions. A year later the range was revised again and all models gained restyled bodywork, extended wheel arches, bigger bumpers and little luxuries such as electric windows and central locking. A 90bhp 2.2-litre petrol derivative arrived in June 1992 to compliment the 2.0-litre petrol and 2.8-litre turbo diesel engines already on offer.
The most significant changes didn't occur until a year later though. Early models had a harsh ride caused by their old-fashioned leaf sprung suspension, and this was addressed in 1993 with the a new suspension set-up. The `Independent` suspension system did wonders for the road-going ability, its double wishbone set-up at the front and five-link coil-spring suspension at the rear meant potholes would no longer shake your fillings out. The same year saw the introduction of a pair of seven-seater versions, the 2.8 TDL and TDX and the demise of the less popular petrol-engined derivatives.
Later revisions improved noise and vibration, and safety has been a priority too. The car looks more aggressive than it did when it was originally launched. Later versions are some 110mm wider than their predecessors and boast wider wheelarches as well as sleeker bumpers and a revised grille. Inside, there's a user-friendly instrument binnacle, while the driver and front seat passengers benefit from bucket-style seats with integral head restraints.
What You Get
All the latest Fourtrak models come with power steering, selectable two or four-wheel drive and an immobiliser security system. Inside, the cars are fitted with a substantial rear roll-over bar which provides mountings for three-point inertia-reel seat belts for rear seat passengers. There are also two (rather uncomfortable) occasional seats in the rear in the long wheelbase models to increase the carrying capacity to seven.
Higher up the range, the TDL-SE is another seven-seater with a healthy dose of equipment. This runs to electric windows, central locking, a four-speaker stereo, an adjustable steering column and additional instrumentation. If you want more, the Fourtrak TDX has colour-coded wheelarch extensions and unique alloy wheels. Gadgetry on the flagship TDX includes electronic 4WD engagement, electric mirrors, power headlamp washers and an RDS stereo system.
If you choose a model that's fitted with the torquey 2.8-litre intercooled turbo diesel unit, you'll also get a hefty 3,500kg towing capacity.
What You Pay
Please fill in the form here for an exact up-to-date information.
What to Look For
These capable workhorses are likely to be used for serious off-roading, so it's advisable to check the bodywork, suspension and chassis for damage. Particular areas that need attention are differentials, gearbox and engine.
Faulty or damaged turbos can be expensive to repair, so have the engine checked out by an expert if you're unsure.
Replacement Parts
Parts prices are relatively low for an Oriental make. A brake master cylinder will be around £85, front shock absorbers will be roughly £25 and a clutch disc will be only just over £50. All these prices exclude VAT.
On the Road
As already mentioned, post 1993 cars are better on-road. That said, don't expect car-like manners: the ride is still rather bouncy on the tarmac. Off-road it's a different matter though: the Fourtrak is one of the most capable small 4x4s around with good ground clearance. It will clamber up a rocky outcrop almost as well as a mountain goat, or even wade through a raging river. If all this sounds a little too extreme for your needs, don't worry: the Fourtrak is just as good at getting you safely off a waterlogged school playing field.
Overall
The 2.8 turbo diesel versions are well equipped, sturdy and have even gained rather stylish looks in recent years. All in all, they provide a good, affordable alternative to a Land Rover.