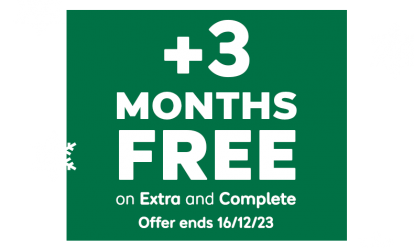 With 12 months of cover, new customers get an extra 3 months for free*.
*Added after 12 months, excludes Basic cover. New customers only. Ends 16/12/23, 7am.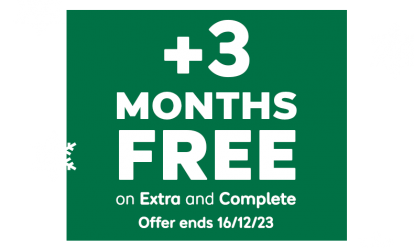 BY JONATHAN CROUCH
Introduction
A cheap manufacturing base in Eastern Europe was one reason why Renault-owned Romanian brand Dacia is able to offer its cars so cheaply on the new market. But do models like this Sandero make sense as a used buy? Here, we look a the original post-2013 version of this car and decide.
Models
5-door hatch / Stepway hatch [1.2, 0.9 TCe, 1.5 dCi]
History
The Sandero is a model nearly as big as a Focus-sized family hatch that when new, cost less than the price of a tiny citycar. Little wonder that it made Dacia Europe's fastest-growing automotive manufacturer. The brand was first founded in 1966 but the company only really took off when acquired by Renault in 1999 as an ultra-affordable brand for developing markets. It was for these countries that its first modern era product, the Logan saloon, was launched in 2004. Costing a mere 5,000 euros, it sold like hot cakes, encouraging the marque to launch a five-door version four years later, badged the Sandero.
By now, the bigger more sophisticated European countries were surprising Renault management by also clamouring for Dacias, a demand that took so long to satisfy that it wasn't until early 2013 that the brand could be properly launched here. By then, a second generation Sandero had been launched, a smarter step up from the spartan original with more modern engineware and more up-to-date equipment. The pricing approach though was familiar, thousands of pounds lower than similarly sized competitors, delivering to British buyers a new car for less than the price of many comparable used ones.
The car was offered in two forms - standard hatch guise and as a 'Stepway' model, which was essentially the same but had a raised ride height and a few SUV styling cues. The range was facelifted in early 2017 and the 1.2-litre entry-level petrol engine replaced by a more efficient 1.0 SCe 75 unit. It's the earlier models we look at here.
What You Get
It's always been important that designs from this Romanian brand should be seen as fundamentally different from their pricier Renault counterparts. So on a Sandero, you'll seek in vain for the kind of swoopy avant garde panelwork that characterises, say, the French brand's fourth generation Clio. Instead, there are bluff, tough, functional aesthetics that are supposed to suggest 'Volkswagen Polo' but don't quite manage to. It's a clean and smart enough look though and one that doesn't automatically classify you as a budget buyer.
Under the skin, there are the same basic underpinnings you'll find on any Dacia model, based on a floorplan dating all the way back to the second generation Clio of 1998. To be fair, much of the mechanical stuff has been redesigned since then and your first impressions of the car should be of something quite clean and modern. The front end, for example, has a neatly rounded, co-ordinated feel with large headlights and an imposing grille. And cost cutting? Well, some of it matters (like the flimsy feel of the door handles) and some of it doesn't (like the way that to cut production costs at the Romanian factory, the Sandero's side glazing is identical to that of Dacia's other Logan and Duster models).
And inside? Well you really can't get away from the fact that never before has such a small price bought you so much space. In the back, three adults would be a bit of a squash, but seating them would be possible and a trio of kids would be fine. It all feels far more like a Focus-sized family hatch than a Fiesta-sized supermini to us - and that can only be a good thing.
An impression that continues when you come to examine the boot. There's 320-litres on offer - compare that to the 276-litre and 316-litre figures you'd respectively get from Fiesta and Focus models from this era. Pushing forward the split-folding rear bench increases that to 1,200-litres - compared to 960-litres in a Fiesta and 1,101-litres in a Focus. So you get the idea: it's a decent size. And massively bigger than the kind of 200-litre boot you'd typically get in the kind of citycar that'd be priced more closely to Sandero levels.
As for the feeling you get up-front, well, it does rather depend on the trim level you've chosen. At base Access level, it really does feel rather drab, but plusher variants feel much lifted by carefully integrated splashes of chrome. Soft-touch plastics, as you might expect, are notable by their absence but it all feels well screwed together and built to last. Practical too, with plenty of cupholders front and rear, plus front doorbins capable of holding decently-sized 1.5-litre bottles.
Are there issues? Yes, but relatively minor ones. The optional MediaNav screen on the centre console attracts reflections, annoyingly the speedo doesn't have even number speed designations (for 20,40,60mph and so on) and the electric window switches are shoved down at the bottom of the centre console, rather than in their usual, more ergonomic place on the doors. On the plus side, the seats are comfortable and the three-spoke wheel feels good to hold, even if it isn't reach-adjustable. On the whole though, a surprisingly positive scorecard.
What You Pay
Please fill in the form here for an exact up-to-date information.
What to Look For
Our Sandero ownership survey revealed a large number of very satisfied owners - which surprised us a little given the low price of this model. Inevitably though, there were a few rogue examples and in your used car searches, you need to be careful to avoid them. The biggest issue we came across was one owner who said his car randomly lost power when accelerating. Others reported issues with rough idling, frequent stalling and excess play in the suspension struts. One owner reported a radiator with a hole in it, which had to be replaced, along with the water pump.
Otherwise, the issues that came up tended to be relatively minor ones. One owner found that the boot lock rotated but wouldn't unlock. Another reported rogue warning lights for tyre pressure and the handbrake. And there was an issue on one car with paint peeling off the rear bumper. Check all these things on your test drive.
Replacement Parts
(approx based on a 2013 0.9 TCe) An air filter costs around £18 and an oil filter costs in the £5 to £9 bracket. Brake pads sit in the £18 to £27 bracket for a set, though you could pay up to around £36 for a pricier brand. Brake discs can cost as little as around £22, though you could pay as much as around £45 or even as much as around £72 for pricier brands. Wiper blades cost in the £3 to £9 bracket. A replacement radiator is priced from around £115, though you could pay as much as £166 for pricier brands. A wing mirror glass is around £15.
On the Road
This, in its most affordable form, was Britain's most affordable new car. An accolade that tends to lower your expectations when it comes to ride and handling, an opinion likely to be reinforced by news of underpinnings essentially dating back to the turn of the century. But of course, the dynamic needs of likely Dacia buyers will be modest to say the least, with a perspective that, like ours, will be further tempered by asking price realism.
So no, of course a Sandero doesn't ride and handle like a rival Ford Fiesta: you feel the bumps just as you would in an old Nineties supermini. But that's to be expected. Apart from anything else, this car has to tackle the unsealed roads of backward nations like Morocco and Iran, so there would have been no point in giving it fancy modern multi-link mechanicals. Still, the robust suspension set-up provided is perfectly adequate for ordinary A to B driving and you'll find bodyroll to be actually reasonably well controlled if you really must throw the thing through the corners.
We wouldn't be quite so forgiving in reference to the slightly baulky five-speed gearchange or the lifeless steering, though the helm is at least light, offering a city-friendly 10.58m turning circle. It's in town where you'll most frequently be pressing the provided Eco button which will limit your engine's pulling power in return for extra frugality. Better than expected is refinement, much improved in this second generation Sandero by the more extensive use of better quality soundproofing materials where it counts, namely around the windscreen and under the bonnet.
And talking of the enginebay, what should you expect? Rather a mixed bag is the answer. None of the units on offer are going to enchant your ears, but they go about their business with differing charms. The cheapest 75bhp 1.2-litre petrol powerplant that entry-level buyers have to have is resolutely old-tech but smooth to operate, easing to 62mph in 14.5s and perfectly happy to cruise at the legal limit before running out of puff at 97mph.
Very different though, is the other petrol option, a pokier state-of-the-art 90bhp three cylinder 0.9 TCe unit which thrums confidently to 62 in 11.1s at the same time as being far more efficient and frugal. Priciest is the dCi 90 diesel which is a second tardier to 62mph and, with a maximum speed of 107mph, slightly slower flat-out but feels faster thanks to nearly 50% more torque, more pulling power.
Overall
If, for you, a car is simply a functional implement, a domestic tool that, like any other, must justify its expenditure, then this one fits the bill perfectly. Solid, spacious and family-friendly for the kind of money you'd pay for a tiny city scoot, it offers pretty much everything you need and nothing you don't. There's extra equipment if you really want it - and even a bit of hi-tech for petrol TCe customers.
All at pricing pitched to severely embarrass the established market players. Their products are still more sophisticated - but the gap isn't huge. Except, of course, when it comes to what you have to pay.