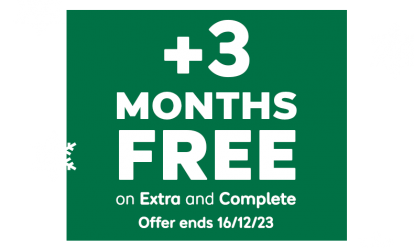 With 12 months of cover, new customers get an extra 3 months for free*.
*Added after 12 months, excludes Basic cover. New customers only. Ends 16/12/23, 7am.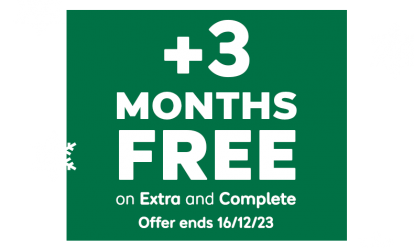 The Dacia Jogger might easily be all the family car you could ever need. Jonathan Crouch drives it.
Ten Second Review
Dacia's Jogger aims to blend the sensible virtues of an estate car with the usefulness of a compact seven-seat MPV and the style of an SUV. All at affordable pricing that will see you doing a double take. It gets modern engineering tech too.
Background
You'd have thought in today's market that every conceivable market niche would have been filled. Yet in the rush to deliver every conceivable kind of SUV, one segment has been ignored; that for a truly affordable 7-seat family car. And who better to fill that niche than Dacia?
If you want seven seats in a family car these days - even in a converted van - you'll need well over £20,000, which Dacia thinks is ridiculous. So the company has taken its Sandero hatchback and lengthened its platform enough to insert a third seating row, so creating this car, the Jogger. At the same time with this model, there are Crossover-inspired looks a world away from the dull conformity of the forgettable Dacia compact estate this contender effectively replaces, the Logan MCV. The Jogger has even been engineered with the option of Dacia's first hybrid engine.
Driving Experience
Almost all Joggers are going to be sold in TCe 110 form, with a 1.0-litre three cylinder petrol turbo unit that produces 108bhp and nearly all of its maximum 200Nm pulling power from just 1,700rpm. It's mated to 6-speed manual transmission. The alternative to this unit is a 1.6-litre petrol 'Hybrid 140' powerplant with a dual electric motor and 1.2 kWh battery set-up borrowed from the Renault Clio supermini. Dacia expects the Jogger Hybrid to be able to run up to 80% of its time on electricity in urban driving and it offers 140hp and 62mph from rest in 10.1s (1.1s fastrer than the base version).
Across the range, under the skin sits the stiffer, more sophisticated Renault CMF-B platform lately introduced into Dacia's Sandero hatch. Don't expect this to deliver particularly engaging handling dynamics; this car isn't intended for that kind of driving. But it'll be easy to use in town, thanks to a light electrically powered steering system that requires little effort to turn at low speeds. There's an 11.7-metre kerb-to-kerb turning circle.
There's more camera safety kit than used to be on Dacias. This one gets an Automatic Emergency Braking System (AEBS). And can be fitted with Blind Spot Warning, which illuminates an LED light within the door mirror to warn the driver if another vehicle may be concealed from view.
Design and Build
Apart from its freshly-branded corporate grille, the Jogger is just as we first saw it back in 2021. It's still the longest model Dacia makes, measuring 4.5m thanks to the 30cm wheelbase increase it enjoys over its Sandero hatch stablemate. You'll spot the visual SUV vibe here - 200mm of ground clearance, modular roof bars and scuff plates see to that. And disguise the fact that from the B-pillar forwards, everything is pretty much the same as a Sandero. There is though, a 40mm step up at the rear to offer the additional height and width needed for the extra seating row. Under the skin lies a modern Renault CMF-B platform.
Inside, there's quite a modern dashboard, embellished with fabric finishes. Infotainment is based around an 8-inch centre monitor with smartphone mirroring. Access to the second row is easy thanks to the 2.9-metre wheelbase, with wide-opening doors and reasonable knee room; you could seat a couple of adults there reasonably. The rear-most chairs are obviously only for kids and reaching them requires a little bit of athleticism. With these extra pews in place, the boot volume is only up to 213-litres, so you won't fit in more than a few shopping bags with all the rows in place. These additional pews don't slide or fold into the floor, so when you're not using them and you need extra boot space, you have to take them out (fortunately, they only weigh 10kg each), freeing up as much as 712-litres of space. If you need more room, the middle row seats roll forward and split 60:40. Maximum carrying capacity is 1819-litres.
Market and Model
So how much are you going to end up paying? Prices start from just over £18,000 and for the TCe 110 petrol engine and manual gearbox configuration there are three trim levels, 'Essential', 'Expression' and 'EXTREME'. Hybrid 140 customers pay from just under £23,000 and choose between 'Expression' and 'Extreme SE'. All of which makes this by quite a stretch the cheapest seven-seater on sale in the UK. Most customers will probably want the mid-range 'Expression' model. The top 'EXTREME' variant at the top of the range features more off road-orientated styling, with additional black body cladding around the wheel arches and bumpers. Plus it gets front and rear skid plates and 16-inch wheels.
As for infotainment, well three different multimedia systems are being offered, depending on the trim level you choose. The first one is 'Media Control', based around a smartphone app, which replicates the app content on a dash mounted screen. This interface controls your device's navigation, media and telephone contacts. Ideally though, you'd want to stretch to a variant with Dacia's 'Media Display' system, which gives you an 8-inch centre dash touchscreen with 'Apple CarPlay' and 'Android Auto' smartphone-mirroring, along with a 4-speaker DAB audio system. At the top of the range, there's a 'Media Nav' system that adds built-in satellite navigation, along with wireless smartphone connectivity, a 6-speaker audio system and two USB ports.
Cost of Ownership
Dacia isn't bothering with a diesel here and at present, there's no sign of the Continental LPG version of the 1.0-litre petrol unit. So you'll need to like the idea of that same three cylinder TCe 110 engine in conventional form, which records up to 48.7mpg on the combined cycle, giving a decent operating range from the 50-litre fuel tank. the CO2 reading is 130g/km. The Hybrid 140 manages 56.5mpg on the combined cycle and up to 112g/km of CO2. This electrified variant includes a 'B' (Brake) mode in its fully automatic, clutchless gearbox, which amplifies the regenerative braking and increases engine braking. This mode optimises energy recovery and driving comfort in urban areas.
On to the warranty. Dacia offers an industry standard 3-year/60,000 miles guarantee from the showroom, backed by three years or 60,000 miles of roadside assistance. For a little more, you can extend the cover by two years or you can up the period covered to a Kia-equalling 7 years and 100,000 miles. Service intervals are every year or every 12,000 miles and since most Renault dealers look after Dacias too, you shouldn't be too far from a specialist workshop. It also helps that there's a timing chain that'll last as long as the engine. Dacia offers a choice of pre-paid servicing schemes covering you for either two years and 24,000 miles or three years and 36,000 miles.
Summary
We can't help thinking that the Jogger is Dacia's most appealing car to date. There's some of the practicality of a compact MPV for family trips, an extra seating row so the kids can bring friends home from school and a bit of SUV vibe so you'll feel happy parking it at the gym. Yes, it's unremarkable inside, but the cabins of modern Dacias no longer shout 'budget brand' so loudly.
Plus most of the kit you really need is available - and a price tag thousands below what you'll pay for a 7-seater from another brand. The Jogger is in many ways just about everything a modern affordable family estate ought to be. And if that's not enough of a recommendation for you, we're not quite sure what is.