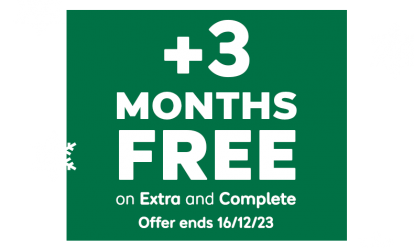 With 12 months of cover, new customers get an extra 3 months for free*.
*Added after 12 months, excludes Basic cover. New customers only. Ends 16/12/23, 7am.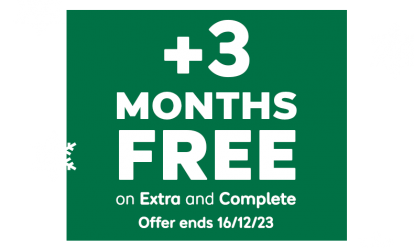 By Jonathan Crouch
Introduction
Citroen's C3 supermini has always focused on comfort and value, along with an extra dash of the kind of innovation we expect from this enduring French brand. Here, we're going to look at the facelifted version of the second generation model, which sold between 2013 and 2016. It featured more efficient engines than the original post-2009 version of this design, a clever range of three cylinder 'Pure Tech' units that transformed its petrol proposition, plus a clutch of Airdream micro hybrid diesel models that'll cost just pennies to run. The result still isn't sporty but as before, the ride's great, the interior's smart and the boot's practical.
Models
5 dr supermini (1.0, 1.2, 1.4, 1.6 petrol, 1.4, 1.6 diesel [VT, VTR+, Airdream+, Exclusive])
History
Citroën knows a thing or two about small family cars, especially those with a dash or two of character. Here, after all, is the marque that over sixty years ago, brought us the iconic 2CV, a model which established its maker as an innovator, an embracer of technology and a brand in tune with the fickle finger of fashion.
Over the years, we've seen further moments of shining innovation, design bravery and unadulterated quirkiness, but never really amongst Citroen superminis. The Nineties Saxo was a rebadged Peugeot 106, while its first generation C3 successor was flimsy and forgettable. In the second generation C3 though, a car launched in 2009, we got a very different proposition. It wasn't a current-day 2CV but it was about as innovative as a practically-sized five-door modern supermini from this era was ever going to get. And therefore a proper Citroen.
Here, we focus on the lightly revised sleeker-looking version of this MK2 model we first saw in the Spring of 2013, a car that like its pre-facelifted predecessor, shared its engines and underpinnings with similarly-sized Peugeot models. Which is important to know as it explains why this facelift really transformed this car. In the Spring of 2012, Peugeot had introduced their all-new 208 supermini, completely with a high-tech range of 1.0 and 1.2-litre three cylinder petrol engines. This improved C3 got all the same technology, which meant that at last, it had a credible petrol-engined line-up. Previously, you had to stretch to a pricey HDi diesel if you wanted a really efficient version of this car.
Like its predecessor, this model was rather refreshing in its refusal to prioritise the 'sportiness' that other brands from this era seemed to feel was necessary in their small runabouts. The French maker had its more dynamic three-door DS3 line to provide that. Which left this five-door C3 to create its own distinct, more laid-back market niche as something smartly fashionable that offered higher quality and greater comfort than a Fiesta, without the potential priceyness of a Polo. The facelifted MK2 model C3 sold from 2013 to 2016 before being replaced by an all-new third generation design.
What You Get
The looks of this second generation C3 design were certainly improved by this car's mid-life facelift, an update that brought a bolder front end emphasised by a prominent double chevron grille. Owners of the original post-2009 second generation version of this car may also notice that the enhanced model sports trendy LED daytime running lights and a body-coloured splitter in the lower air intake. At the rear, the facelift brought sleeker tail lights and some neat reflectors fitted to the bumper. So much for the detail stuff.
Interestingly, this C3 is almost identical in size to the supermini sales leader from this era, Ford's Fiesta. But from there the similarities cease. Ford went for angular window lines and a dynamic drive. Citroen, in contrast, has always preferred to target buyers who favour a more laid back life. Not only in terms of this car's softer ride but also in styling that prioritises an airier, more spacious-feeling more comfortable cabin. That's why this C3 featured a short, steeply-rising bonnet, an arcing roofline and side windows that fell lower than the bonnet line. Most notably, the large frontal glass area on top models featured something that was really quite unique - the so-called 'Panoramic Zenith windscreen'.
Find a C3 fitted with this feature, then push up the driver's seat sunvisor and your normal upward 28-degree angle of vision will be increased to a massive 108-degrees - a better view out in fact than you'd get roof-down in a convertible where the windscreen rail is usually directly above your head. Practically, it means you don't have to crane your neck up when, for example, you're first in the queue at the traffic lights. Subjectively, it does wonders in increasing the light, airy feeling of the cabin. The extended glass section is progressively tinted so that the top of your head won't be but if you really don't like it, you can pull the sunvisor back down again to the point where the top of the roof would normally be.
This feature gives the car a welcome feeling of spaciousness that isn't borne out by the tape measure. In fact, at well under 4m, it's one of the shortest superminis you can buy from this era. Quite impressive then, that this C3 still manages to offer up quite adequate interior space. Or at least the feeling of adequate interior space. Some of this is smoke and mirrors - the light, airy atmosphere created by the bulbous roof and low windowline for example. And some of it's created by selective prioritisation, so for example, you get a recessed lower dash that gives the front passenger a lot of knee-room - but at the expense of a tiny glovebox.
So much for the design semantics. What you can't argue about is the quality of this car's cabin in comparison to the tackiness of the small Citroen models we all grew up with - though we don't really understand why in a car as resolutely un-sporting as this one, there's a flat-bottomed steering wheel. Still, at least the model in which such a thing would be more appropriate - the French brand's more up-market DS3 hot hatch - provided this car with many elements of its interior trim. So there are classy analogue instruments - with smart white-backlit dials - plus solid expensive-looking plastics, flashes of chrome to liven things up and a neat strip across the dashboard that was available in a selection of colours. Everything flows together - nothing looks like an afterthought. In fact, so solid does it all feel and so few are the kind of giveaway rattles that often plagued the post-2002-era first generation C3 model that it's something of a surprise to learn that this second generation C3 design is 50kg lighter than the original one.
Take a seat at the back and as usual with a car in this class, there's space for two adults or three children to sit comfortably. Knee room is slightly below average but aided by the slim design of the front seatbacks, plus the semi-raised position of those front seats creates decent space under them for your feet. It's also notable that, thanks to the domed roof, headroom is a little better than you would expect. If you happen to be sitting behind the front seat passenger, you're likely to have more legroom as the recessed dash we mentioned earlier will enable that front seat occupant to sit further forward.
Out back, and rather astonishingly given the tight exterior dimensions, you'll find one of the largest luggage bays in the supermini segment from this era, though there's quite a high loading lip to negotiate before you can access it. At 300-litres in size, it's 10% bigger than a comparable Fiesta's boot and offers nearly as much room as you'd find in a Ford Focus from this era from the next class up. Certainly there's enough capacity here to take a single bulky suitcase or a pushchair. There's also some extra space under the floor to neatly store away the parcel shelf when not in use. For ultimate carriage capacity, you can of course push forward the split-folding rear bench that's standard on all models and although it doesn't go quite flat, it does fold to reveal 1,121-litres of fresh air.
What You Pay
Please fill in the form here for an exact up-to-date information.
What to Look For
This particular era C3 hasn't experienced any significant reported problems to date. Examine for flaking of paint on the bumpers and check that the air conditioning works and that the pixels on the centre display are all good. Also check for rear bumper scrapes. Finally check that the Bluetooth pairs reliably with your phone handset. Otherwise, it's down to the usual things. So check that the service records have been properly stamped up. Look for signs of plastic scratches and dens around the interior caused by unruly children. And check for scrapes on the alloy wheels caused by distracted parents not paying attention properly when parking.
Replacement Parts
(approx based on a 2013 Citroën C3 1.6 HDi 90 VTR+ ex vat): Brake pads are between £11 and £35 for cheap brands though you could pay up to around £40 or even around £70 if you want an expensive make. Brake discs will cost around £35 to £70, though you could pay up to around £125 or even around £155 if you want an expensive make. Air filters sell in the £6 to £15 bracket. A wiper blade costs in the £5 to £15 bracket but you could pay up to around £26 for a pricier branded item. A headlamp is around £100 to £125, but you could pay up to around £190 for one. A rear lamp can cost as little as around £82, but will more typically be priced in the £140 to £150 bracket. A timing belt would cost around £65 to £95, though you could pay as much as £118 for a pricier-branded item. Radiators cost in the £135 to £155 bracket. A broken glass in a wing mirror will cost you around £15 to £25 to replace.
On the Road
Small French cars used to ride beautifully, grip tenaciously and flow from corner to corner with relaxed, unflustered motion. As, by and large, this one does. It may come as news to some motoring journalists but most supermini buyers don't routinely want to throw their cars about as if they were on stage from the RAC Rally. What most of them would prefer is a model that rolls the red carpet over the average appallingly surfaced British road. As this one does.
The trick, which Citroen hasn't always mastered, is to offer this without inducing the kind of bodyroll and handling woollyness that removes any element of enjoyment from the driving experience altogether. In this respect, this impressively refined C3 is a world away from its first generation predecessor and was further improved in this enhanced guise with an increase in the anti-roll bar rates by about 15% and an increase in the damping rates by around 20%. So it didn't roll and wallow as much as before. True, a Ford Fiesta from this era would still be a tauter, more eager proposition for enthusiastic drivers but this C3 we think, is the car a significant number of people would prefer to live with day-in, day-out - though we would say that on longer trips, the seats could do with a little more support.
On the open road, you might also wish the power steering had a bit more feel, but it comes into its own around town, where you appreciate the light gearbox and clutch as much as the tight 10.2m turning circle that will help owners out of many a tight spot, as will a good field of vision around the car helped by the low window line and, on top models, the clever Panoramic Zenith windscreen that improves our upward line of vision.
As for the changes to this improved second generation C3, well, most of them lie beneath the bonnet. For this enhanced MK2 model, Citroen was able to borrow the light, revy little three cylinder 'Pure Tech' petrol engines from Peugeot's rival 208 supermini and they really transform this car's buying proposition for green pump buyers. First up is a 1.0-litre 68bhp unit that needs to be revved quite hard if you're to get anywhere near the quoted performance figures (rest to 62mph in 14.2s en route to just 101mph). Much better is the 1.2-litre 82bhp version of this unit. This delivers the same distinctive three cylinder thrum, but accompanies it with pokier performance, 62mph from rest taking 12.3s on the way to 108mph. It's a pity you only get a 5-speed manual gearbox though: on the open road, this car would be much more relaxing with a 6th speed.
These two three cylinder engines occupy the sweet spot in the C3 line-up but for the sake of completeness, we'll mention that the PSA Group's older Vti petrol engines, a 95bhp 1.4 and a 120bhp 1.6-litre, also lived on further up the range, mainly to cater for green pump buyers wanting an automatic gearbox option - though in neither case is the self-shifter ideal. With the 1.4, it's Citroen's CVT belt-driven EGS 6-speed set-up that's efficient but can be jerky. The 1.6-litre model's older 4-speed auto is of the more conventional kind, so it's smoother but relatively thirsty and dirty.
If you really must have some kind of automatic gearbox in this C3, it's probably better to try and get it with a diesel engine, but in that case, you'll be limited to looking for a C3 fitted with the pricier of the two 70bhp 1.4-litre Hdi units - the so-called 'e-Hdi 70 Airdream EGS' variant. Quite a mouthful designating quite a lot of technology that includes conditional use of the rather jerky EGS auto gearbox we just mentioned. That transmission also rather dulls the performance. To give you an idea of just how much, we'll tell you that if you find a version of this C3 fitted with the same 1.4 Hdi engine but equipped with a conventional manual gearbox, you'll get yourself to 62mph in 13.5s, nearly 3 seconds faster.
Want more diesel performance? You'd really need to be a higher mileage driver to justify it. For those that were, Citroen provided two 1.6-litre Hdi units, offering either 90 or 115bhp. Both were suitably fettled with the 'Airdream e-Hdi' micro hybrid technology we just mentioned but in this instance, both came with proper manual gearboxes - a 5-speeds for the '90' and six for the '115'. Be quick with the stick in each case and you'll manage the 62mph sprint in times of 11.3s and 9.7s respectively. In 2015, Citroen introduced its 'BlueHDi' diesel technology into this car with a 75bhp 1.6-litre unit.
Overall
The improved version of this second generation C3 supermini turned out to be a far more buyable prospect - and that holds true on the used car market too. Mainly, this is due to the fresh options it offered under the bonnet. Most looking at a car of this kind come in search of super-efficient petrol power: prior to 2013, this Citroen couldn't offer it but with the clever Pure Tech three cylinder petrol options that this 2013 to 2016-era model could offer, that was properly put right.
This technology makes a lot of difference to this C3's buying proposition. True, as superminis go, this isn't an orthodox choice, but then that's part of its appeal. In time honoured Citroen fashion, a C3 is just that little bit different, with smart, slightly quirky looks and the advantage - on top models anyway - of a uniquely clever extended windscreen. Best of all, instead of adopting the 'little big car' approach favoured by many rivals and ending up feeling like a scaled down family hatchback, this model manages the same thing in a cleverer, more compact package by simply making better use of the space it has to offer. Citroen's MPV expertise doubtless helps here.
What it lacks in driving dynamism, it makes up for in quality, refinement and a cosseting ride. Indeed, we can think of few sensibly-sized small cars better suited to urban motoring than this one. Overall then, this improved MK2 model C3 is a strong contender if you're looking for an affordable supermini from the 2013 to 2016 era. Best of all perhaps, it's a car that's distinctively Citroen.