Plans for box junction enforcement outside London
In 2022 the Government is expected to allow all authorities in England to carry out enforcement of moving traffic offences, such as stopping in yellow box junctions.
The RAC commissioned Sam Wright, who was formally responsible for designing and approving yellow boxes on the Transport for London Road Network, to explain some of the issues this poses and highlight the potential dangers that lie ahead in this surprisingly complex subject.
What is a yellow box junction?
A box junction is a traffic control measure designed to prevent gridlock at junctions. They're easy to recognise – in the UK, it's a yellow box filled with criss-cross yellow lines painted on the road.
Under the rules of the Highway Code, you're not allowed to enter the yellow box unless your exit is clear and there is enough space on the other side of the junction for your car to clear the box completely without stopping.
There is an exception; if you want to turn right, you are allowed to enter the box and wait if you're prevented from turning by oncoming traffic, or by other vehicles waiting to turn right. It's perfectly legal for you to wait on the yellow criss-cross provided your exit road is clear.
What is the punishment for breaking the box junction law?
Yellow boxes have been enforced by local authorities in London since 2004 and in Cardiff since 2014, while elsewhere the police have enforcement powers.
Many box junctions have cameras in place, and you could be fined if you're caught using the box incorrectly. On Transport for London (TfL) red routes in London, the penalty charge notice is now £160, reduced to £80 if paid within 14 days. You can appeal against the fine if you think you can prove your innocence, but if you don't win your case it could be a costly and time-consuming process.
Breakdown cover from just £7.95 a month*. Plus up to £150 of driving savings!
What is the purpose of a yellow box?
The purpose of yellow boxes is to prevent the blocking of 'cross' or 'through' traffic movements. The principle is to ensure that congestion in one direction doesn't block traffic travelling in another. This is reinforced by statements from two of the main enforcing authorities:
TfL: "Yellow box junctions keep the junction clear for through-traffic to avoid traffic jams." "Yellow box junctions... are in place to keep traffic on the roads flowing"
Cardiff: "Yellow box junctions are placed at busy junctions to aid the flow of traffic through the junction"
Where can they be?
Subject to the definition of a yellow box junction being satisfied, the regulations state that boxes can be only be placed in specified locations, namely:
(a)at a junction between two or more roads;
(b)at a gyratory system or roundabout; (controlled by traffic lights)
(c)along a length of a two-way road (other than at a junction), the carriageway of which is not greater than 4.5 metres wide at its narrowest point; or
(d)on the length of road adjacent to the vehicular entrance to the premises of a fire, police or ambulance station;
Therefore, for example, outside a private bus station/depot is not one of the permitted locations. This box outside a bus station in Haringey was deemed to be illegal and replaced with a 'keep clear' marking, but not before many thousands of tickets had been issued:
According to this article, in 2019 TfL issued almost 4,000 tickets for stopping on this yellow box on Camberwell New Road.
However, it is also outside a bus station. The box has since been quietly removed:
The vast majority of motorists will not be aware of such legal technicalities when faced with tickets. One of the failings with the system is there is no formal or practical mechanism to obtain a refund in such situations and no consequences for authorities when they get it wrong.
If a driver is planning to appeal over what they deem to be an unfair PCN they should not pay the fine in the first instance. Once a driver pays the fine, this can be considered as admitting liability. However, many drivers will often pay because of the risk of paying the higher rate if their appeal fails – fines issued offer a discounted rate for prompt payment.
How should they be designed?
Extent
The key design principle is that yellow boxes should be no bigger than is necessary to prevent vehicles obstructing through movements. They are not designed for, and serve no purpose in situations where vehicles are travelling in the same direction. We call these 'merging' movements.
This is also reflected in Department for Transport Guidance which states: "Nor should they be used where traffic streams merge, as it will not be clear which stream has precedence when a gap appears."
Using this criteria we can assess for example this box in Birmingham: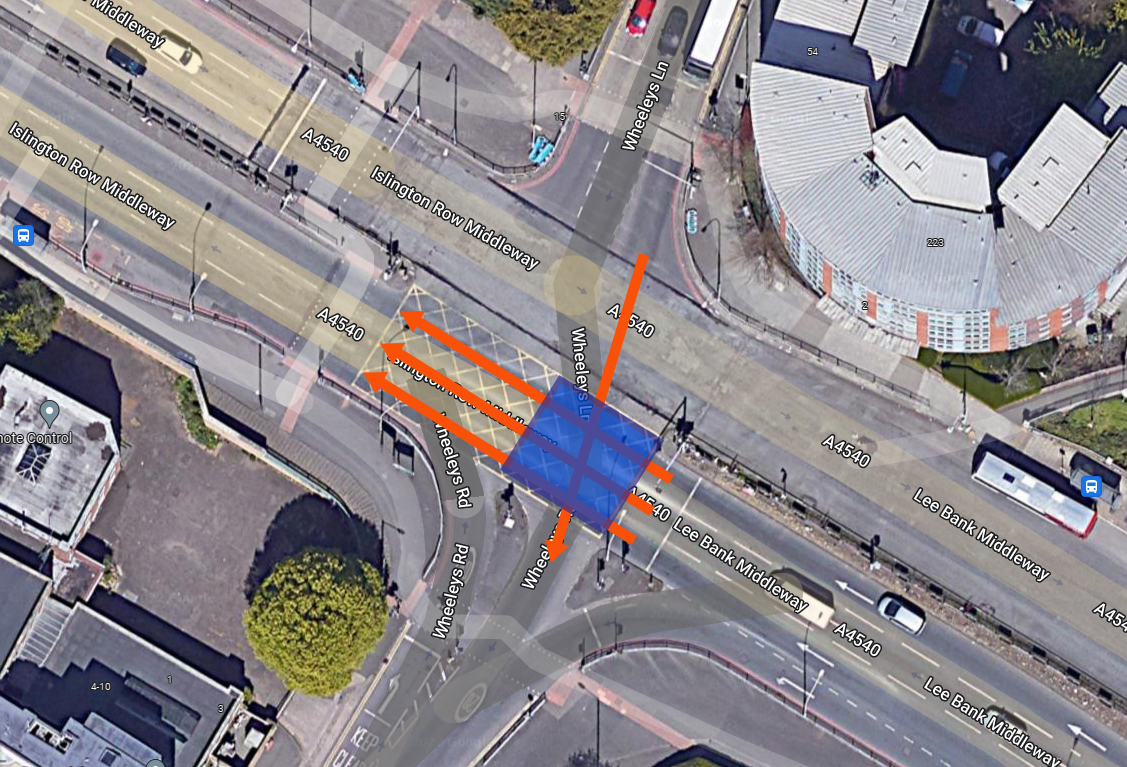 The blue area shows a conflicting cross movement. If a vehicle on the main road stopped here it would block through traffic on Wheeleys Road (and vice versa).
However, the rest of the box (outside the blue area) is not protecting a cross movement. Traffic in that area is merging from three directions. If this box were to be enforced, tickets issued in the blue area would certainly be justified, however tickets issued outside that area would not.
In congested merging conditions, it can often be very difficult for drivers to proceed without stopping in the box and unfair to penalise them.
A 'merging' box in Ashton-under-Lyne:
Visibility
The second main criteria is that drivers should have adequate visibility beyond the box to be able to make a clear judgement before entering it. The regulations state:
"…a vehicle which is stationary or stops within a box junction includes a vehicle which is stationary whilst part of it is within the box junction."
It's not just that drivers need to see the end of the box, they need to see that there is space beyond the box for their vehicle to fit without any part of it overhanging.
In the case of a car that will be 5-6m. For larger vehicles, it will be up to 15m. There are many situations where visibility is obscured by buildings. Take this example from Northcote Road in Clapham, London. This was the site of a notorious box which was removed many years ago but not before many drivers were fined.
We can see the same issue at other junctions around the country, eg here in Manchester.
Drivers may be surprised to hear that there is no legal requirement for authorities to meet the above design criteria and it is simply down to the competence of the enforcing authority.
Designers should take to a car in rush hour themselves to see if they can negotiate the box without stopping, before insisting that others do the same.
Other junction features
The area after the box is often a crossing. In the example below, the box is only 16m wide but taking into account crossings, the distance for a driver to clear them all is actually 40m.
Fearing a ticket, an unintended consequence of enforcement is that many drivers end up blocking crossings instead, negatively impacting on pedestrians and cyclists.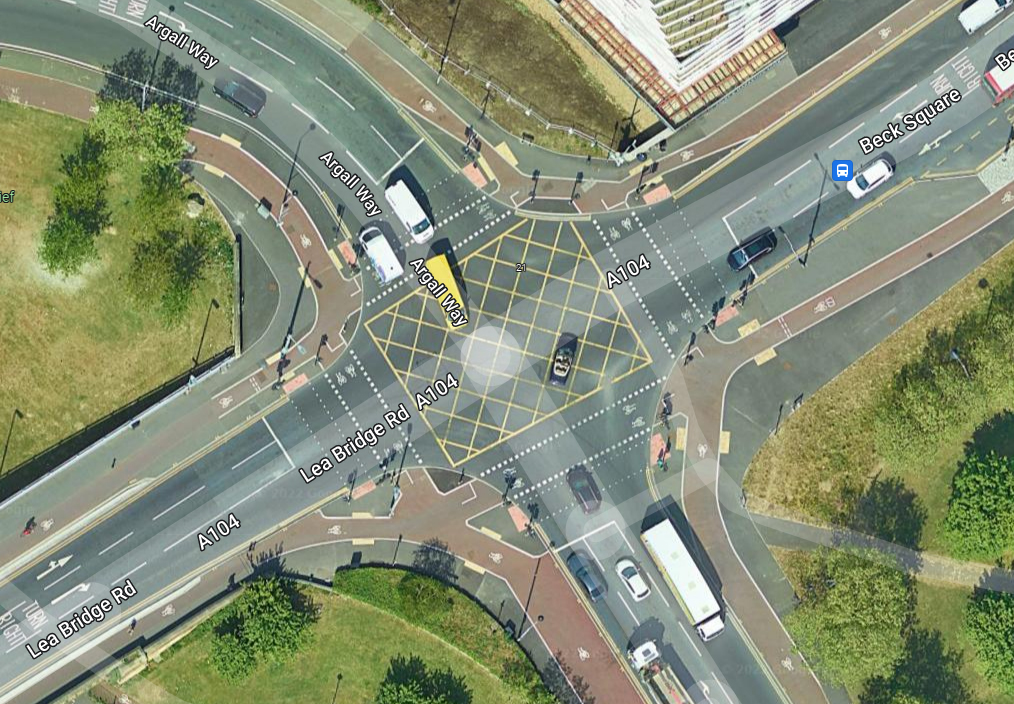 The crossings at this junction on Lea Bridge Road in London are regularly blocked by vehicles avoiding fines in the box junction.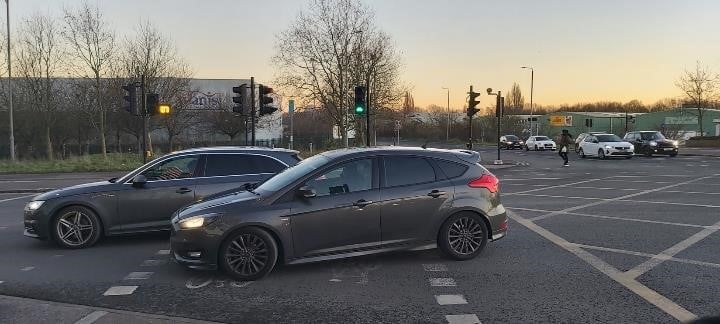 The movement
Many people mistakenly believe that if you are stopped in a box, then you are guilty. However, it is not that simple. The regulations state:
"a person must not cause a vehicle to enter the box junction so that the vehicle has to stop within the box junction due to the presence of stationary vehicles."
There are two key takeaways from this:
"Cause a vehicle to enter" means that the offence commences at the moment you enter the box. If when you enter your exit is clear, but circumstances change afterwards, such as a vehicle changing lanes and blocking your exit, then there is no offence.
"Due to the presence of stationary vehicles" means that If you stop for another reason, for example a red light, or to let a pedestrian cross the road, there is no offence.
Adjudication decisions have found in favour of motorists on both these issues.
Practical difficulties changing existing boxes
Whilst the approach to designing boxes outlined above is great for new ones, removing existing markings from the road can damage the surface leading to potholes. In my previous role the opportunity to change existing boxes was usually as part of scheduled resurfacing.
However, this only takes places periodically, it could be every 10 to 15 years. Otherwise they would need to resurface the junction on its own and paint a new box. Resurfacing is not cheap, for example it would cost around £15k for the Birmingham box above.
We must ask, honestly, will an authority proactively pay to reduce the size of a box that will then bring them less revenue?
Way forward?
Yellow boxes are a complex issue and it is vital that the lessons from London are learnt by authorities in the rest of England before they start enforcement of their own.
Whilst there can be little sympathy for drivers who deliberately block junctions, there are a myriad of boxes throughout the country that if enforced would provide no benefit to traffic. Fining people is a serious business and must not be taken lightly.
It would be far fairer if every box that is proposed to be enforced was subject to an independent assessment and approved by the Department for Transport. Rather than relying on generic statements to justify tickets, authorities should set out precisely which traffic movements they aim to benefit at each individual box. They should also have to show that staff issuing tickets and assessing appeals are fully versed in the law.
Ultimately if authorities didn't retain the revenue from fines then this would remove the inherent conflict of interest in undertaking fair enforcement. However, there is no indication that the Government will change that. If enforcement powers are granted to English authorities without additional checks and balances, a cursory glance at the many 'dodgy boxes' across the country means we are potentially staring into the abyss of years of motorists suffering more unfair tickets.
RAC head of roads policy Nicholas Lyes said:
"In the absence of definitive guidance on the design, maintenance and enforcement of box junctions there will be a high degree of confusion among drivers and local authorities which could lead to an avalanche of penalty charge notices being wrongly issued and then having to be appealed. This will inevitably lead to an unnecessarily high number of appeals for local authorities to review, as well as some poor outcomes for drivers.
"We have written to the Department for Transport asking them to update the guidance to make it clear to local authorities what the minimum standard for design and condition of a box junction should be before letting enforcement begin, but they are adamant the present guidance is sufficient.
"We are worried that failing to update guidance to include the lessons learnt from more than 15 years of enforcement in London will lead to countless wrong fines being issued, no end of unnecessary stress for drivers who feel they have been unfairly treated and thousands of wasted council hours investigating appeals.
"It's absolutely crucial that yellow box junctions are enforced fairly and, as things stand, this may not be the case which will mean many drivers will be treated poorly and lose out financially as a result."
Do you think that yellow box enforcement is unfair? Share your stories in the comments below.
Sam Wright is a chartered engineer and was formally responsible for the design and approval of yellow boxes on the Transport for London Road Network. He runs the road safety website Collision Plot.
Running a car isn't cheap, but there are some easy things you can do to keep your costs down. Get these tips and more useful driving articles sent straight to your inbox now.