With air quality becoming an increasingly political issue, measures are being put in place to encourage cleaner vehicles to enter areas where air pollution is poor. Low Emission Zones (LEZs) have been identified as a tool to help this issue by reducing harmful emissions in specific areas.
While the implementation of Low Emission Zones in Europe is much talked about it is still a complex scheme that many people are left confused about what they mean in practice.
Here we will tackle the issue head on, explaining everything you need to know from what they are to how they will affect you.
What is a Low Emission Zone?
Low Emission Zones (LEZs) are schemes that cover specific areas (typically city regions) to tackle pollution and that discourage certain types of polluting vehicles from entering a specified zone.
Typically, this will consist of a charge on the vehicle should it not reach a particular minimum standard for emissions to enter this zone. Its intention is to encourage the use of cleaner vehicles to improve air quality.
They are becoming increasingly used across Europe and, in the UK, the London Low Emission Zone is the nation's largest and most comprehensive.
MORE ADVICE: The RAC's top tips on how to future-proof yourself against the London T-charge
While LEZs do not forbid higher emission vehicles from entering, daily charges to enter the zone are enforced and failure to pay the daily charge may result in heavy financial penalties - to find out if you are liable to paying the charge read our daily charges' section below.
Get cover from £34.99. Vehicle based roadside only on an annual continuous basis. New members only.
Where are England's Low Emission Zones?
There are Low Emission Zones in:
Brighton
Norwich
Nottingham
Oxford
These locations, except for London, only affect local buses, so members of the public will not have to worry about paying to enter them - as it currently stands.
Some believe that, as inner-city pollution levels worsen, more cities could bring in Low Emission Zones that include a wider range of vehicles, including cars.
Each local authority will have details on their website about the specifications they use to implement their Low Emission Zone.
READ MORE: What is a smart motorway?
The London Low Emission Zone
The London LEZ began in late 2008 and covers most of Greater London, including parts of the M1 and M4 (but not the M25). Unlike the London Congestion Charge, it operates 24 hours a day.
The London Low Emission Zone is a separate scheme to the London Congestion Charge, therefore, drivers of vehicles affected by the London LEZ who enter the Congestion Charge zone must pay two charges during the daytime on a weekday.
We advise vehicle owners check where the boundaries of each are before entering London.
Here is a map to show you exactly where the Low Emission Zone spans.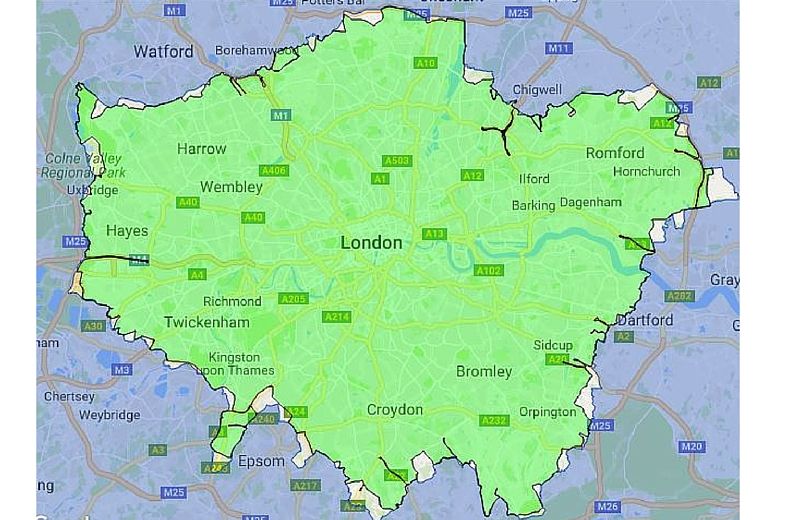 The zone is automatically enforced by cameras as opposed to barriers or toll booths.
Entry points for the London Low Emission Zone are well marked by clear signage as shown below.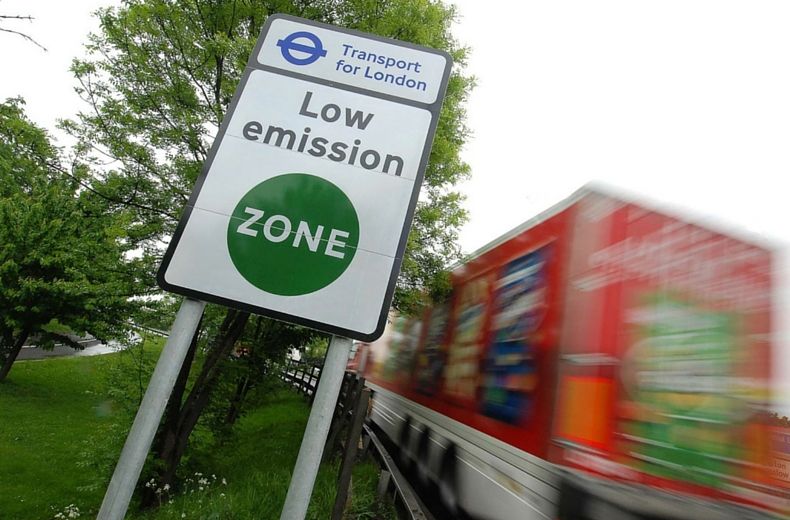 There are additional reminder signs within the zone too and signs before the zone offering diverted routes in case you do not wish to enter.
What vehicles are affected by the London Low Emission Zone?
At the moment, it is only larger vehicles that are affected by the London Low Emission Zone: pre-October 2006 lorries over 3.5 tonnes, coaches over 5 tonnes, larger vans, mini-buses and motorised caravans.
Light 4x4s and pick-ups registered new before 1 January 2002 are also required to pay it.
You can use the Transport for London guide and enter your reg to see if your vehicle is affected and if you will have to pay to enter.
What will it cost me to enter the London Low Emission Zone?
That depends on what you are driving and where you are.
This table should give a clear indication on how much you are likely to pay.
| Vehicle | Weight | Daily charge |
| --- | --- | --- |
| Larger vans, motorised horseboxes, 4x4 light utility vehicles, pick-ups, other specialist vehicles | 1.205 tonnes unladen or more | £100 |
| Motor caravans, ambulances | 2.5 - 3.5 tonnes gross vehicle weight | £100 |
| Mini-buses (with more than eight passenger seats) | 5 tonnes or less gross vehicle weight | £100 |
| Lorries, goods vehicles, motor caravans, motorised horseboxes, breakdown and recovery vehicles, snow ploughs, gritters, refuse collection vehicles, road sweepers, concrete mixers, tippers, fire engines, removals lorries, other specialist vehicles | More than 3.5 tonnes gross vehicle weight | £200 |
| Buses, coaches (with more than eight passenger seats) | More than 5 tonnes gross vehicle weight | £200 |
Should you wish to avoid paying the charge altogether, you may wish to purchase a cleaner vehicle, or have an approved filter fitted.
The Low Emission Zone operates every day of the year, including weekends and public holidays.
Daily charges should be paid by midnight on the next working day after the first day of travel.
Charging days run from midnight to midnight so if you were to drive within the LEZ between 23:30 and 01:00 the next day, you would need to pay for two days.
Vehicles parked in the zone but not driving are not subject to the LEZ charges for that day.
What is the London Ultra Low Emission Zone?
As inner-city pollution worsens, Low Emission Zones may become a key tool in helping authorities to control emissions without the need for an outright ban on certain vehicles entering city areas.
They are predicted to become much more commonplace than today.
The Ultra-Low Emission Zone at present is due to come into force in September 2020 under proposals drawn up by the previous Mayor of London, Boris Johnson.
It will cover the same area as the London Congestion Charge zone so it will be more focused on Central London than the existing Greater London Low Emission Zone.
Like the LEZ, the ULEZ will operate 24 hours a day, including weekends and public holidays. However, the ULEZ will also impose charges on all vehicle types (including cars) for the first time – and the strictness of the emissions limits means that potentially a large number of cars will be affected by it.
The criteria for cars is Euro 4 compliance for petrol models, meaning models built from 1 January 2006 will not be required to pay the ULEZ charge.
For diesel models, the criteria is much stricter: Euro 6 compliance is necessary, meaning only models built from 1 September 2015 will be exempt from paying. The daily charge if cars don't meet the criteria is £12.50.
MORE INFO: Find out what Euro Emission Standard your car is with this table
Penalty Charge Notices will be high: car owners who don't pay the daily ULEZ charge will be subject to a £130 fine (which reduces to £65 if paid within 14 days). For HGVs, coaches and buses, it will be £1,000 (reduced to £500 if paid within 14 days).
The new Mayor of London, Sadiq Khan, is seeking to bring the ULEZ charge forward a year to 2019, to reflect greater urgency to reduce nitrogen oxide and particulate emissions.
Where are Europe's Low Emission Zones?
Fourteen European countries operate LEZs, with more than 200 cities and towns having schemes in place.
The list is likely to grow over time, so if you're planning a trip abroad this summer, we advise using this useful site to check if the area you're driving in has a Low Emission Zone in place, it will offer all the advice and information you need to be aware of.
An LEZ in Europe, just like in the UK, means certain vehicles will be banned from driving into these areas, which are usually well marked out by signs.
In Germany, LEZs are called Umweltzone and there are 75 schemes in operation, in both major cities and smaller towns.
For more advice on driving in Germany and German LEZs visit our driving in Germany guide.
They are also commonplace in Italy, with more than 100 schemes, covering cities, countries and whole regions (for example the whole of Lombardia).
Three cities in the Netherlands now have car and van LEZs, in addition to schemes affecting only lorries.
Sweden, Austria, Finland and Denmark operate LEZs for larger heavy goods vehicles. Belgium, the Czech Republic, France, Greece, Norway and Portugal all have at least one LEZ that affects, or will soon affect, cars too.
Many towns and cities also have traffic restrictions. For example, more than 200 Italian cities have areas where traffic is very restricted, often to only residents, called 'ZTLs' (Zona a traffico limitato). These regularly result in expensive fines. Find out where ZTLs are and how to avoid the fines here.
READ NEXT: Find out more about France's LEZs in our driving in France guide