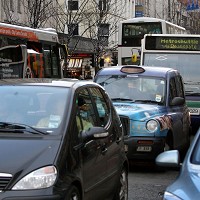 Motorists looking to shave a few minutes off their journeys by taking city shortcuts are risking having to take longer to reach their destinations, a new poll suggests.
The survey found that traffic hold-ups are two times as bad on local routes than they are on main roads, and city congestion problems have worsened in the last 12 months.
Last year, typical journeys in built-up areas took more than 27% longer to complete in heavy traffic than at times when the roads were clear. In 2012, the difference was 26%.
There is no more congested city in Britain than Belfast, the study discovered.
Travel times are 36% longer when there is a lot of traffic in the capital of Northern Ireland.
London and Edinburgh are the second and third worst cities for traffic congestion out of 17, the poll reveals. Sheffield and Leicester were found to have seen the biggest increases in traffic hold-ups.
Copyright Press Association 2014