The Department for Transport (DfT) have hired consultants to review how the UK can crack down on rising emissions – and this has led to suggestions that a 'tyre tax' could be introduced.
With the Government looking at reducing the impact UK drivers have on the environment, many are viewing it as the latest hit families are facing as part of the current cost of living crisis.
There are also concerns over the impact it would have on tyre safety for vehicles across the country.
Before any changes will be made or any new tax introduced, the Government have tasked the consultancy to analyse the current state of tyre emissions.
A Government spokesman told the Telegraph: "We want to better understand the impacts of non-exhaust emissions, such as tyres, on the environment which is why we're conducting research on the matter. This research was not commissioned to inform tax policy development.
"As we continue to deliver on our target to meet Net Zero by 2050, we are committed to keeping the switch to electric vehicles affordable to consumers, which is why we are spending billions to help incentivise uptake and fund the rollout of charging infrastructure across the UK."
When tyres break down, they release a range of particles, from visible pieces of tyre rubber to nanoparticles. These particles may contain a range of toxic chemicals as well as metals like zinc and lead.
Following the announcement, there have been concerns over how the tax would be managed and how it would impact drivers.
RAC's roads policy chief Nicholas Lyes said: "Talk of a tyre tax, while incredibly premature, could do more harm than good by causing more injuries and deaths on our roads by putting drivers off replacing worn out tyres when they should.
"If levied at the point of sale, it would lead to cheaper tyres being taxed more heavily as they are far more likely to wear more quickly and shed a higher number of particles into the environment and better quality ones being taxed less.
"Making cheaper tyres more expensive would no doubt cause some to continue driving on illegal tyres, compromising road safety for everyone."
The news follows a report from Imperial College London (ICL) into the impact of toxic emissions from tyres.
The Transition to Zero Pollution initiative warned that even though electric vehicles remove the problem of fuel emissions, Britain will continue to have a problem with particulate matter because of tyre wear.
According to their research, more than six million tonnes of tyre wear particles are released globally each year, and in London alone, 2.6 million vehicles emit around nine thousand tonnes of tyre wear particles annually.
In a new briefing paper, they have called for more investment in tyre wear research.
Lead author Dr Zhengchu Tan, of Imperial's Department of Mechanical Engineering, said: "Tyre wear particles pollute the environment, the air we breathe, the water run-off from roads and has compounding effects on waterways and agriculture. Even if all our vehicles eventually become powered by electricity instead of fossil fuels, we will still have harmful pollution from vehicles because of tyre wear.
"We urge policymakers and scientists to embark on ambitious research into tyre wear pollution to fully understand and reduce their impacts on biodiversity and health, as well as research to reduce the generation of these particles."
The research covered the wider impacts tyres have on the environment and human health.
In conclusion, the Transition to Zero Pollution initiative made a series of announcements that could impact the future of driving.
The report authors call for policymakers and scientists to investigate the complex problems related to tyre-wear pollution. This needs to be coupled to clear policy and regulation and to a broader discussion around urban transport systems.
They stated that the Government should introduce a standardised system to help measure environmental tyre wear levels and their toxicity. ICL research also called for the reduction in the 'harm to land and water species and in humans' by reducing limits on the use of harmful components in tyre materials.
Following this, they would like to see the launch of new trials to better understand the short and long-term effects of different sized particles on the environment and human health.
What do you make of the introduction of a potential 'tyre tax'? Is there anything else that could be done instead to tackle our environmental impact? Leave your comments below.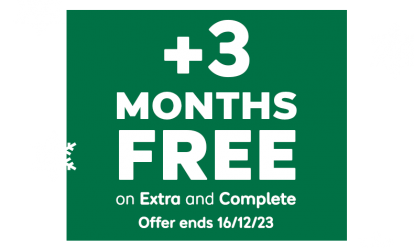 With 12 months of cover, new customers get an extra 3 months for free*.
*Added after 12 months, excludes Basic cover. New customers only. Ends 16/12/23, 7am