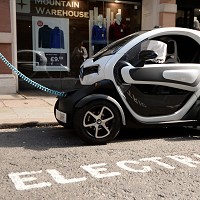 The Government has pledged to make almost every vehicle sold in the UK zero emission by 2050.
It signed an international agreement to do so at the International Zero-Emission Vehicle Alliance climate conference in Paris.
Germany, Holland and Norway were among the 13 other members of the group to agree to the commitment.
Manufacturers in the UK are increasingly turning their attention to electric and hydrogen-powered cars, as motorists ditch petrol and diesel cars in favour of greener models.
But the RAC Report on Motoring 2015 suggests it is not the reduced impact on the environment that is swaying their decision.
While a fifth of those surveyed would consider buying an electric or hybrid car, nearly half of them would do so because of lower running costs.
The Government plans to spend more than £600 million between 2015 and 2020 to support the uptake and manufacturing of ultra-low emission vehicles in the UK, with a view to dramatically reducing emissions by 2050.
But Philippa Oldham, of the Institution of Mechanical Engineers, says greater research and development spending is needed to drive down the cost of low-carbon vehicles and improve their performance.
She adds it is also critical to look at the infrastructure supporting these vehicles in the future.
Copyright Press Association 2015. Motoring News articles do not reflect the RAC's views unless clearly stated.