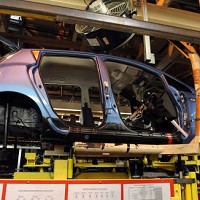 The Nissan Leaf has beaten off the challenge of other eco-friendly cars to become the UK's best-selling green vehicle.
The RAC Foundation 's analysis of figures show that by the turn of the year there were 6,838 UK-licensed, battery-powered electric Leaf cars .
This put it 29.6% ahead of its nearest rival, the Outlander, a plug-in hybrid from Mitsubishi - and way in front of the third-placed BMW i3, which had 1,534 licensed vehicles.
The RAC Foundation says that the number of drivers buying a car with low-emission benefits is accelerating quickly - proving that motorists will convert to more environmentally friendly cars if the price is right.
Nissan claims the Leaf offers owners fuel costs starting at only 2p a mile.
The DVLA data pertained to four years after the Government launched its £5,000 grant initiative to encourage motorists to invest in cars with lower emissions, along with £8,000 for eco-vans.
Stephen Glaister, director of the RAC Foundation, said: "After a slower start than ministers hoped for, sales of the greenest cars are accelerating fast, but it is illuminating to see which manufacturers are benefiting.
"These numbers tell at least two stories.
"One is the steady sales resilience of the Nissan Leaf which has been available under the Government's grant scheme for four years."
Prof. Glaister added: "The other is the success of the Mitsubishi Outlander of which about 5,000 were sold in its first 12 months on the market.
"We have always argued that sales of ultra-low carbon vehicles will really take off when they are priced as attractively as similar petrol and diesel models.
"This seems to be what has happened with the Outlander which is also attractive because of the low company car tax it attracts."
In fourth place came the Renault Zoe followed by the plug-in hybrid Toyota Prius model. The Vauxhall Ampera, Tesla's Model S and Renault's Kangoo ZE came sixth, seventh and eighth respectively.
All forms of Nissan's e-NV200, including the van, and the Peugeot Ion make up the top 10 most popular eco-vehicles table.
Copyright Press Association 2015
https://www.gov.uk/government/organisations/driver-and-vehicle-licensing-agency (DVLA)