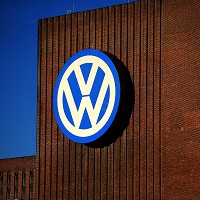 The Volkswagen emissions scandal was not caused by "a one-off mistake", according to the manufacturer's chairman.
Hans Dieter Poetsch says a "whole chain of mistakes" that was not interrupted over a long period of time led to the development of sophisticated software to cheat environmental tests on diesel vehicles.
He claims a small group of engineers began working on the manipulation device as early as 2005 when they were unable to find a solution to reduce nitrogen oxide emissions to an acceptable level.
Around 400 employees have had the data from their laptops and mobile phones analysed as part of VW's investigation into the scandal, while more than 2,000 have been ordered not to delete anything.
It is believed that information on what was happening in relation to emissions tests stayed within a small circle of people.
Mr Poetsch insists the company is relentlessly searching for those responsible. Nine managers have so far been suspended for possible involvement in the matter, which affected 11 million diesel vehicles worldwide.
In the UK, where almost 1.2 million vehicles were affected, VW sales fell by a fifth year on year in November.
Copyright Press Association 2015. Motoring News articles do not reflect the RAC's views unless clearly stated.