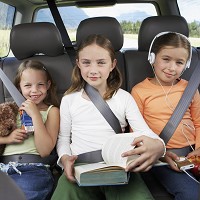 Children who sit in the middle seat in the back of a family car are more likely to be a success in later life, a new study claims.
Being squashed between siblings has long been seen as drawing the short straw, but research conducted for Skoda Octavia shows that middle seat children are often high achievers, particularly in business.
As many as 90% of directors with two or more siblings sat in the middle as a child, while 72% of business owners and 62% of senior managers also sat between brothers and sisters during car journeys.
This success could be down to the personality traits that middle seat children develop, the research suggests.
Some 44% describe themselves as easy going, while 28% say they are reasonable, 25% patient and 21% level-headed. Incredibly, 80% of middle seat children attribute their success to their car position as a youngster.
Consultant child psychologist Laverne Antrobus says she finds the research extremely interesting. "Cars are a unique environment and a lot can be revealed when everyone is sitting together in a confined space," she says. "It's fascinating to see how a seating position in the back of the car, often over many years, can directly reflect or influence our personalities."
Despite seating arrangements being a bone of contention for 43% of families, 66% of middle seat children say they actually enjoyed being hemmed in while on the move. What's more, a tenth of them still sit there during family road trips today.
Alasdair Stewart, head of brand at Skoda UK, says: "As thousands of families take to the roads this bank holiday weekend, we were keen to shine a spotlight on the millions of family interactions that happen in the Skoda Octavia every day across the UK. It's been fascinating to see how in-car dynamics such as seating positions can impact on us as people."
Copyright Press Association 2015