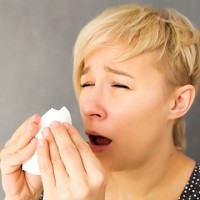 Getting behind the wheel, or jumping on the saddle, when suffering from a cold or flu can be extremely dangerous.
The Institute of Advanced Motorists (IAM) is therefore encouraging drivers and riders to think twice about embarking on a journey if they're felling unwell - instead resting at home until the symptoms subside.
Research shows that our concentration falls by more than half when we're suffering from a heavy cold or flu, while our reaction time also slows down, forcing us to brake more frequently and suddenly.
Symptoms like sneezing, runny eyes, fever and tiredness, either individually or combined, can affect our ability to drive and ride safely, plus over-the-counter medicines can make us feel tired and drowsy.
The IAM recommends reading the label or leaflet of any medication. If it reads 'may cause drowsiness' you should assume it will and therefore avoid travelling at all costs. Also check with your GP about prescription drugs for potential side-effects.
Drivers can travel up to 50ft with their eyes closed during a sneeze, causing them to temporarily lose control of their car, putting themselves and other road users at risk of serious accident. That's why it's so important to think very carefully about whether you need to drive or ride at all when suffering from a cold or flu.
Copyright Press Association 2014