Episode two of Winter Road Rescue airs this Thursday (7 February) at 9pm on Channel 5 - and will offer even more excitement and insight into the lives of our RAC breakdown colleagues.
As temperatures plummet, the public are urged only to venture onto the roads if their journey is absolutely necessary.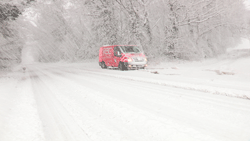 The show first features Patrol Gareth Alexander, who comes to the assistance of motorists in Pontypridd as more vehicles are abandoned in the snow and ice conditions hitting South Wales.
In these conditions, Gareth's 4x4 comes into its own.

Shown next is Patrol Jason Dawkins in Bristol, where a motorist finds their car battery has failed and Jason has to give a helping hand to a driver stuck on the ice.

Our next rescue is in Oldham, where Patrol Joe Ryan-Howells comes to the aid of a Golf driver whose vehicle has slid off the road, down a hill and into a gate. Joe has to use all of his ingenuity to tow the vehicle back onto the road using his winch.

In Leeds Patrol Richard Finn rescues a motorist who has skidded off the road in freezing fog and the bitter cold – and gives some good advice on driving on ice.

Another story features Patrol Sean Kimberlin in the South West, where he comes to the aid of a couple who have got their Peugeot stuck in mud in a narrow country lane. The story, on the floods and driving in floods, features a clip of our contact centre in the West Midlands and a description of catastrophic engine damage which can be caused by just an egg cup of water getting into the engine as a result of driving into flood water.

Patrol Louise French in Bournemouth, calls for back-up support from the local police when she has to rescue a member who has suffered a puncture on a busy stretch of dual carriageway on a bridge. They don't have a spare, so Louise has to do a puncture repair while cars hurtle by at 70 mph. As Louise says, 'One tiny mistake could be fatal.'

Finally, Recovery Specialist, Darren Oliver finds a church minister who is stranded in flood water near Tewkesbury. Darren finds him after travelling through three foot in depth flood water and has to drive back through the flood to take the member home, where we see him united with his young family.