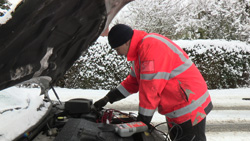 In the final episode of Winter Road Rescue, which airs this Thursday on Channel 5 at 9pm, we catch up with more of our Patrols rescuing members in hazardous conditions.
The programme starts in a blizzard with the heavy vehicle recovery team from Alpha, making the recovery of an overturned lorry on a busy commuter route north of Newcastle, even more treacherous than normal. It dramatically illustrates the impact of a major accident and the time it takes to get the road clear for other users. In this case, the busy commuter route was closed for ten hours.

When temperatures plummet, we see calls double and our Patrols handle up to one breakdown recovery every four seconds. Next up is a series of clips showing the extreme lengths our own Patrols go to in difficult snow and ice conditions and their determination to get on the road and help our members. Patrol Richard Finn in Wakefield uses his 4x4 to tow a member back onto the road when they get stuck on ice.

We also see Patrol Kevin Andrews coming to the assistance of a young female member stuck in snow in a car park in Bath. This soon turns into an epic rescue, as another five motorists turn to Kevin to get them and their vehicles moving.

We then catch up with the gritters and snow ploughs in Aviemore. Heavy rescue teams helping a young coal delivery driver who has crashed in Northampton, as well as a massive artic which has run off the road in Bicester.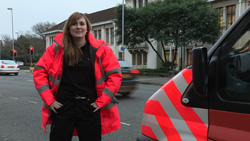 Finally, the series closes on a dramatic rescue by Patrol Louise French in Bournemouth. The snow has started to fall and the roads are icy, causing a 19 year old motorcyclist to slip and crash into a bollard. Louise and the cameraman are first on the accident scene and Louise, who had originally wanted to be a nurse, quickly checks he is conscious and makes sure he's stable and comfortable before calling the ambulance. She takes control of the situation and makes sure the victim is safe from the busy rush hour traffic. Not only that, she also averts disaster by quickly stemming a fuel leak from his bike and moving it off the road.


What did you think of the series? Let us know via Twitter - www.twitter.com/RAC_Breakdown and Facebook - www.facebook.com/rac.