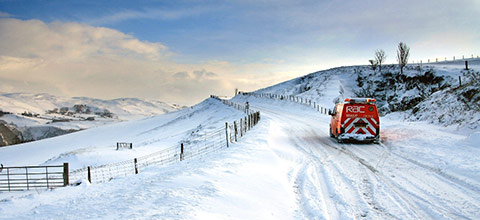 With the Met Office issuing warnings for snow and high winds this weekend, we're advising drivers to carry out some simple checks to beat the battery blues and avoid the disappointment of a non-start on Monday morning.
Cold, wintry weather can spell the end for an old and exhausted battery. In fact, did you know battery failure is the biggest cause of breakdowns attended by RAC patrols? This year we've experienced some unseasonably warm temperatures which means many motorists' batteries have continued to perform in the milder weather. Don't be caught out though - the near zero temperatures anticipated this weekend, combined with the icy winds pulling down much colder air from the north, could well deliver the final spark for many older batteries.
Thankfully, there are some simple steps you can take to minimise the risk of battery failure just before you start your Monday morning commute. For example, a car stood idle all weekend is at greater risk of failing to start, so taking a ten minute drive on Sunday afternoon could be beneficial. If you're worried that your battery may be tired and running low, start your engine and let it warm up before switching on the lights, wipers, air-con or even the radio. Limiting the drain on the battery in this way could give you the valuable energy needed to get your car going.
This weekend it will be well worth spending a few minutes to do the usual recommended, simple, checks to try to ensure your car doesn't fall foul of some of the most common avoidable breakdown faults. So, check your oil and coolant levels and add fluid as required. Top-up your windscreen washer fluid by using a good quality screen wash which is effective down to at least -10 degrees C.
With heavy rain forecast, here are some simple checks to make your driver a little safer:
check that your wiper blades are working properly so that they are cleaning the screen effectively and ensure the rubber has not perished.
check that your tyres are inflated to the correct pressure and that you have a good and legal depth of tread across the tyre surface. This should be a minimum depth of 3mm and is vital to maintain good grip and traction in wet and even icy conditions.
check that all of your lights are working correctly including your indicators and brake lights and replace any faulty bulbs or blown fuses.