As cars have become more and more computerised working out why they have broken down has become increasingly complex. This is why the RAC made a £6m investment to equip its 1,500 roadside technicians with the very latest mobile technology in the form of rugged laptops to fix more of its members' vehicles at the roadside as quickly as possible.
The state-of-the-art diagnostic system known as RACScan+ is some of the most advanced breakdown diagnostic software in the world. It allows RAC qualified roadside technicians to diagnose faults across multiple vehicle systems on today's high-spec, high-tech cars, which would otherwise have to be taken to a garage for repair.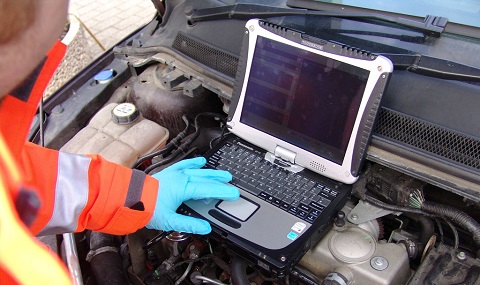 Modern vehicles are equipped with sophisticated electronic computer management system which takes care of every aspect of the car's performance, safety and ride. Complementing the 500-plus tools each patrol van carries, RACScan+ enables RAC technicians to carry out a repair by programming new parts which previously could only be done at garage. Increasingly, even replacement batteries on modern vehicles require 'coding' when replaced.
The RACScan+ laptop simply plugs into the vehicle's diagnostic port and analyses its computer systems. All petrol cars and light commercial vehicles since 2000 and diesel vehicles since 2004 have been equipped with diagnostic ports which are similar to a TV scart socket.
RACScan+ has been designed and developed with one of the world's leading vehicle diagnostic software suppliers and tailored to the RAC's specific needs to achieve maximum results in the event of a breakdown. It is also linked to a technical information database for individual vehicles, helping to speed up roadside breakdown repairs.
On a daily basis RAC patrols – who are some of the UK's most qualified roadside technicians – fix four out of five cars at the roadside dealing with everything from a puncture or a flat battery to replacing complicated engine sensors that are critical to vehicle performance and economy.
Some of the issues RACScan+ can be used to fix at the roadside:
Diesel particulate filter regeneration - diesel particulate filters play an important role in cleaning up vehicle exhaust and reducing emissions to the levels required by law. However, they are very expensive to replace and sometimes need to be regenerated which used to be a costly job for a garage. If a vehicle suffers a breakdown due to its diesel particulate filter a technician can use RACScan+ to regenerate it at the roadside, potentially saving members time and money
Fitting some new parts and batteries – when installing some new parts and batteries the vehicle's computer system has to be re-configured so that the part functions correctly or in the case of a battery all the vehicle's functions work correctly
Remote access to the RAC technical department – should an RAC patrol want additional input about a vehicle fault RACScan+ can remotely connect to the technical department at headquarters
The UK's oldest motoring organisation, the RAC is proud of its technical history having developed equipment such as the rapid deployment trailer that stows in the rear of a patrol van and can be mechanically released to tow a vehicle. In addition, the RAC's technical team actually trains many of the motor manufacturers own dealer workshop technicians on how to repair the latest production models.