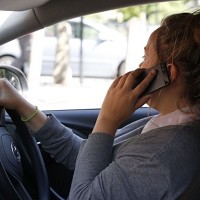 Motorists aged 17 to 24 are the worst culprits when it comes to in-car mobile phone abuse, a new Brake study shows.
The road safety charity has urged drivers to put away their "life-threatening distractions" and concentrate fully on the road.
Brake's call comes as nearly 14 million motorists take to road for the three-day bank holiday this weekend.
The poll of 1,000 drivers finds that 49% of young drivers admit to using mobiles for work calls; 35% to speak to relatives and 21% for chats with friends.
When compared to motorists across the age spectrum; 17% use mobiles for work, nearly 25% phone relatives and 15% chat to friends.
The study relates to hands-free and hand-held calls over the past year. Brake is urging the Government to ban hands-free devices for drivers.
This follows research which indicates that motorists increase their chances of having an accident fourfold if they have phone chats - regardless of whether the device is hands-free.
The new poll comes only four months after the Transport Research Laboratory found that smartphone can slow motorists' reaction times by two-and-a-half seconds.
Drivers convicted of using handheld phones face three driving licence points and a £100 fine.
Brake also found that two in three motorists confess to driving for unbroken stretches of two hours - despite studies indicating that concentration fades the longer people drive.
Brake's deputy chief executive Julie Townsend says mobile phone-using risk takers are in danger of causing crashes and deaths. She suggests that family members and friends should refuse to speak to loved ones phoning from behind the wheel to put their safety first.
Ms Townsend also says that work bosses also have a key responsibility to ensure that they do not put their staff's lives in dangers.
Copyright Press Association 2015