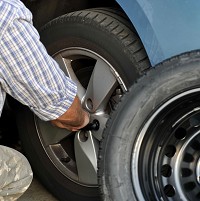 Being able to change a flat or punctured tyre on your car is an extremely useful skill to have.
But it seems more and more young people are calling on their breakdown cover provider when the unexpected happens, with a new survey revealing more than half of those aged 18-24 would not know where to start.
The ability to change a tyre used to be one of many motoring skills thought of as common knowledge, along with the know-how of how to check tyre pressure and the vehicle's oil and water levels.
However, the skills may be lost on the next generation as at least 55% of today's younger drivers polled confessed they would not have a clue.
The poll also highlighted a gender gap, with around 57% of men in the age group confident they could change a tyre, while only a third (34%) of women feel the same way.
RAC spokesman Simon Williams said: "It's worrying to think so many young motorists don't know how to change a wheel. While this is an important skill to learn there are times when it is really not advisable to attempt to change a wheel. For instance, changing a driver's side wheel on the hardshoulder of a motorway is something that many would not be willing to tackle.
"In fact, research from the RAC Opinion Panel has found that 54% of motorists are not prepared to change a wheel on the motorway. This demonstrates the importance of making sure you have the right level of RAC breakdown cover in place."
According to the survey by IntelligentCarLeasing, there were three reasons why young people never learned the skill.
Breakdown cover included in the driver's car insurance policy was the main reason, while respondents also pointed to the fact it is not required in order to pass the driving test.
Also, many young people believe most cars now come with run-flat tyres, which is actually not true.
Copyright Press Association 2014