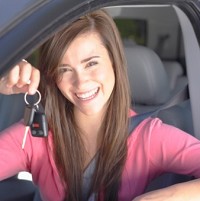 Young, rural drivers are far more likely to be involved in a collision compared to their urban counterparts, so says a new report.
Drivers who fall in to this category are two-thirds more likely to be in a crash on a 60mph road, with 41% admitting they are more likely to drive quicker on rural roads.
Abreakdown of the figures shows that between 2007 and 2011, 8,227 young drivers living in rural areas were in fatal or injury-causing collisions.
The study conducted for Michelin by Road Safety Analysis, officially released next Monday (June 3), appeared exclusively in Telegraph Motoring.
Michelin's head of government affairs, Darren Lindsey, said that rural roads are not more dangerous. But he said: "Young rural drivers are more likely to crash, either because they feel more confident driving at speeds, negotiating bends or driving on unlit roads."
The poll also shows that plans to curb the excesses of newly-qualified young drivers have received surprise backing - from young drivers themselves.
It reveals that four in 10 drivers aged 17-25 would welcome mandatory motorway driving lessons, night-time motorway lessons and breath-alcohol ignition locks.
These are part of the Department for Transport's Green Paper on improving young drivers' safety.
Copyright © Press Association 2013