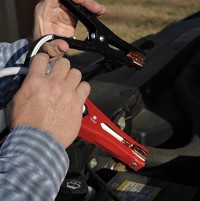 Simple skills often stereotyped as 'manly', such as jump starting a car, are passing a new generation of young men by, according to new a survey.
One fifth (20%) of young men aged 24 and under told the JCB Toughphones poll they have never completed DIY or household tasks.
The survey found that just 15% of men in that age group can jump start a vehicle after abreakdown , while only 17% can change a tyre.
Fewer than a third (28%) know how to change a plug, the survey found.
Meanwhile, kitchen skills are higher on the list, with 70% of young men asked saying they knew how to bake a cake.
Men aged 25 to 34 were found to possess better 'manly' skills, but older men had superior knowledge.
Those aged 45 and over could complete more so-called 'manly' jobs than younger generations, while 75% of men aged 55 and over knew how to complete more manly challenges, such as hanging wallpaper.
JCB Toughphones' Jason Kemp said: "It appears the younger generation of men are becoming de-skilled in more traditional 'manly' type jobs.
"Older men were probably able to pick up these skills more easily in the past, while younger men have more distractions these days."
Copyright Press Association 2012