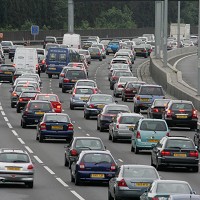 Inexperienced young drivers have such a high opinion of their skills behind the wheel they believe they are better than those who have been on the roads longer, new research suggests.
A study conducted by RED Driving School found, that of the 500 young drivers questioned, at least 29 per cent said they were more careful than older motorists and hadn't picked up as many bad habits.
The youngsters said they were more likely to follow road rules more stringently, while other family members were less likely to do so.
Despite statistics suggesting that newly licensed young motorists are likely to be less careful on the roads, Ian McIntosh, chief executive of the British driving firm, said new laws currently being discussed by the government to curb dangerous driving weren't enough to see a significant change.
Instead he suggested more education and intensive driving training with instructors who would have key responsibility for the development of new drivers.
RED suggested that the study showed confusion among drivers as to whether new laws, which are aimed at curbing the number of young drivers being killed on the roads, would actually reduce the number of fatalities each year.
The study was released in time for Road Safety Week, which runs to November 25, and is aimed at preventing road accidents and supporting the victims of crashes.
Copyright Press Association 2012