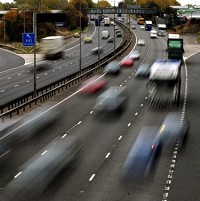 Young drivers face a disproportionately high risk of being injured on the roads, according to the latest survey commissioned by the RAC Foundation.
Almost one in eight (11.9%) road casualties occur in collisions involving a driver aged 17-19, the data showed.
But drivers of this age group make up just 1.5% of licensed drivers.
In the Dyfed Powys area of Wales the rate of such incidents was even higher than the national average at almost one in five (18.2%), followed by Cumbria and North Wales (15.8%), the northern and Grampian regions (15.7%) and Cornwall (15.5%).
"Whichever way you cut it young drivers pose a significant and disproportionate risk to themselves and to others and it is in rural areas where the casualty rate is highest," commented RAC Foundation director Professor Stephen Glaister.
The survey was carried out on behalf of the RAC Foundation by transport research laboratory TRL and it covers information from the five years between 2008 and 2012.
GDL also looked into the possible effect of the introduction of graduated driving licensing (GDL) in different areas.
A GDL scheme typically applies to young drivers for several months after passing their test and can include various restrictions such as limits on the number of passengers they are allowed to carry.
Professor Glaister continued: "The Government has repeatedly delayed announcing its strategy to help reduce young driver accidents but here is yet another piece of evidence which shows graduated licensing can significantly cut death and injury."
He added: "The frustration is that while ministers here prevaricate, action is being taken just across the Irish Sea. Earlier this month a bill was put before the Northern Ireland Assembly which proposes the introduction of many of the measures this Government appears to have ruled out.
"We should all have an interest in preserving young drivers' lives rather than exposing them to undue risk at the stage of their driving careers where they are most vulnerable. This is about ensuring their long-term safety and mobility. Not curtailing it."
Copyright Press Association 2014