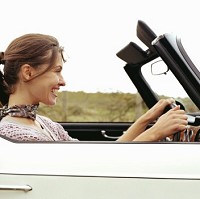 A large number of young drivers speed and allow themselves to be distracted by friends or loud music, new research has revealed.
One in four novice drivers said they thought it was acceptable to exceed the speed limit when driving at night (24%) or on country roads (26%), according to a survey by the Association of British Insurers (ABI).
Carrying other passengers topped the list of distractions (55%) for rookie motorists, with 44% admitting they were absorbed by the radio and 45% admitting they found themselves eyeing-up the scenery.
Such distractions help contribute to the high accident rate among young drivers, which leads to thousands of accidents each year and helps to drive up theircar insurance premiums.
Parents of young drivers should advise their offspring to reduce their speed, avoid dark, winding country roads and consider whether they need to drive their friends around at night, new ABI guidelines issued as part of the Safe Young Drivers campaign said.
Young people should turn off the car stereo, especially if they are carrying passengers or driving in the dark or in bad weather, as well as avoid alcohol and the temptations of in-car mobile phone usage.
James Dalton, the ABI's head of motor, said: "At this time of year the driving distractions and dangers come thick and fast: driving in the dark and in difficult weather conditions such as in heavy rain or ice and often with friends or family in car."
Copyright Press Association 2012