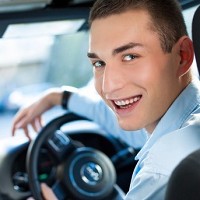 Youngsters aged between 16 and 24 have a greater chance of being seriously hurt or killed on Welsh roads than any other age group, new figures suggest.
This has increased calls for younger motorists to be given extra training, only months after the RAC made a similar plea.
The Welsh Government's latest figures reveal there were as many as 272 16-to-24-year-olds badly hurt on its country's roads over 2014 - a rise of 8% on 2013.
The Government says it is key to reduce this figure if a dip in overall road casualties is to be achieved.
Although people in this demographic only account for 12% of Wales's population, they represent nearly a quarter (22%) of the country's Killed and Seriously Injured (KSI) casualties on the road.
They also accounted for nearly a fifth (18%) of passenger fatalities between 2010 and 2014. Nearly one in two (46%) of the 16-to-19-year-old casualties were in cars driven by peers.
Brake says the latest statistics show that additional tuition is required for younger motorists, who generally take more risks, and so receive higher car insurance quotes.
The road safety organisation advocates introducing post-test restrictions as well as training drivers over a statutory minimum time - or Graduated Driver Licensing (GDL).
Brake's Dave Nichols says the benefits of GDL lowering young motorist casualties have already been experienced in several other countries.
GDL enables youngsters to gradually accumulate experience behind the wheel while not subjecting them to higher-risk scenarios, including night-time motoring, Mr Nichols added.
Earlier this year the RAC was among the driving organisations calling for driving lessons in the classroom , like they already do in countries such as Germany, Poland and Latvia.
Simon Williams, RAC spokesman, said at the time: "Awareness and education among young drivers is a vital element in the effort to bring down accidents on our roads, and being able to reach them while still at school would seem to make a lot of sense."
Copyright Press Association 2015