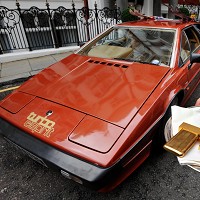 A supercar which featured in James Bond classic For Your Eyes Only is expected to fetch up to £120,000 at auction.
The Lotus Turbo Esprit was designed for a new generation of Bond fans, and is more realistic and less gadget-laden than the elaborate 1970s versions.
However for those aiming to emulate Bond's jet-set lifestyle, the metallic bronze vehicle from the 1981 movie is equipped with a ski rack.
The chassis number one car was the personal transport of Lotus boss Colin Chapman before it starred alongside Roger Moore.
Edward Bridger-Stille, director of auctioneers Coys, revealed that although two identical cars were supplied for production, the other one was blown up during a stunt.
It had a "useful burglar alarm" which exploded when the ignition was tampered with by Bond's would-be assailant. Perhaps reassuringly, the cars do not have this facility in real life.
Mr Bridger-Stille predicted the car will fetch between £80,000 to £120,000 and described it as "great investment potential" in the current economic climate.
It will be auctioned by Coys at Blenheim Palace, Oxfordshire, on July 18.
Copyright © Press Association 2009