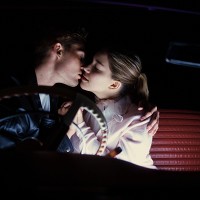 Nearly 2 in 5 Britons had their very first kiss in a car - and many arguably prefer their vehicle's company to their partner's, according to a new RAC poll.
Research for the RAC Cars website finds that 38% of people had their opening passionate embrace in a car.
More adults admit their first vehicle proved more exciting than their first boyfriend or girlfriend, the survey also shows.
Men are found to be slightly more enthused about their first motor (57%) than their first girlfriend (55%). But i t is even more clear-cut among women, with a first set of wheels exciting 66%, compared to just 60% for whom men had the same effect.
Men daydream about cars (every 55 seconds on average) more regularly than females daydream about sex (typically every 64 seconds). Women consider cars at 92-second intervals on average.
Most drivers claim their first motor was dependable, in contrast to 27% who think their first romantic partner was as reliable.
Four in 10 women say a lovely car impresses them, according to the survey.
RAC Cars spokesman Pete Williams said: "Our research shows that whether male or female, old or young - we all appear to love cars.
"Both men and women admit to getting hot under the collar when they think about their dream set of wheels and many of us hold more endearing memories of our first motor than our first partner.
"However, the time we spend on our cherished vehicles can be a source of marital tension.
"And, with 64% of men admitting to cleaning, polishing and tinkering with their car at least once a month, and a further 24% confessing they think about changing their partner just as often, you'd be forgiven for thinking men would prefer to spend more time with their cars than their partners."
Copyright Press Association 2015