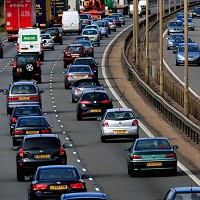 A judge has banned a van driver from driving for 12 months after police stopped him for towing a car on the M1 at 100mph.
While towing a Honda car, Ali Vakili kept changing lanes in his red Citroen van to overtake vehicles as he drove south on the M1 close to Watford on 19 March 2012.
Police saw that the board at the back of the trailer was loose and the brake lights didn't work.
The police stopped Vakili, 48, after he was clocked at 100mph when overtaking other vehicles.
Hertfordshire Police said they discovered that Vakili's licence did not allow him to tow vehicles.
The driver, of Airedale Avenue South, Chiswick, west London, pleaded guilty at St Albans Crown Court to dangerous driving outside the purview of his licence.
Vakili, who is a native of Afghanistan, told the judge through an interpreter: "I am very, very sorry about what I have done."
In his plea to not be banned from driving, Vakili said: "I am the only breadwinner in my family."
Vakili was disqualified from driving for a year by Judge Marie Catterson, who told him he could not drive again until he passes an extended driving test, the Hertfordshire Police reported.
Copyright © Press Association 2012