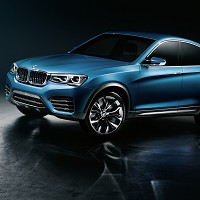 One-in-four BMW cars sold worldwide is an X model and the German car-maker is looking to expand its range further with the new X4 Sports Activity Coupe concept.
The X4, fast approaching production readiness, closely resembles its successful big brother the X6 but has large specifications all of its own, considering its massive 21-inch wheels.
Abreakdown of the new model's specifications shows it is 4.65 metres long, a quarter of a metre shorter than a 5 Series and future owners may find they have difficulty fitting in the tightest of car parking spaces because of its 1.9 metre width. X4 drivers should also be wary of raised kerbs when parking.
The X4 will be built in the US at the same factory that churns out its X3, X5 and X6 models but it doesn't look like UK drivers will get their hands on it until the latter part of 2014 as it is set to be released in either the US and China first that year before any shipments arrive in Europe.
Copyright Press Association 2013