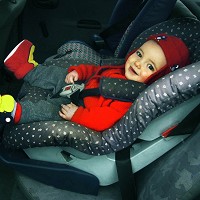 The wrong choice and fit of car seats by parents is putting their young children in danger, a new study shows.
Over one in four, or 27%, of parents of toddlers mistakenly believe they should select a car seat based on the age of their child, when they should be choosing based on a child's height and weight, consumer watchdog Which? reports.
What is also of concern is that 50% of parents think that when their children are nine months old they are ready to use car seats that face forward. The correct time for a child to use these seats must be determined by the child's weight.
Abreakdown of the research conducted by Which? with the help of local councils shows that 50% of parents polled did not know the correct car seat model for their vehicle and half of all seats studied were incorrectly installed.
The study also reveals that a third of children are not sufficiently restrained because their safety belts are loose.
Taken together, these important matters are placing children in the face of danger, Which? said. The consumer watchdog also cautioned parents not to purchase car seats from an online source if the website does not give sufficient advice or fails to offer a fitting service.
The car seat study is one aspect of a Which? campaign to reduce the number of children who are injured and die due to road accidents. Over 5,000 children below the age of 12 needed medical assistance and 214 died or suffered grave injury in road collisions in 2011.
Copyright Press Association 2013