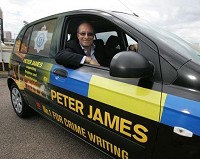 Crime novelist Peter James has donated a police patrol car to Sussex Police to show his appreciation to the force for helping him with his stories.
The five-door Hyundai Getz saloon, which features images and branding of his bestselling books, will be used as a community response vehicle around the Brighton and Hove region.
The author, who is best known for his Roy Grace series of novels, spends one day every two weeks with Sussex CID and in the company of a former detective chief superintendent to ensure his depictions of police investigations are accurate.
The car's unveiling coincides with the release of his latest book, Dead Tomorrow, and it will be rebranded every year to match each book launch.
City commander, chief superintendent Graham Bartlett said: "We are extremely grateful to Peter James and Pan Macmillan for their continuing support in sponsoring the car for the city's policing division.
"It has already proved to be an essential tool, giving our neighbourhood teams greater flexibility in serving the communities of Brighton and Hove."
He said that the car will not be used for emergency calls but instead in the local community, to provide visibility and reassurance, as well as a quick way for officers to get to their local neighbourhood areas.
Copyright © Press Association 2009