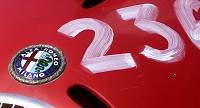 Owners of an Alfa Romeo 166 are the unlucky drivers of the worst depreciating car in the UK - with the model retaining just 14.4% of its original price after three years.
Rover and MG cars like the 45/ZS and 75/ZT do not fare much better, holding onto just 20% of their value over the same length of time.
Proton, Mitsubishi and Nissan cars also feature in the bottom 10 in a study conducted by car valuations site Glass's, with none of them retaining more than 25% of their initial value.
The results were obtained from studying the values of more than 6,500 different types of car that are over three years old, by car valuations site Glass's.
All the cars at the bottom of the list had one thing in common that contributed to their low valuations - they are becoming obsolete.
Adrian Rushmore, Managing Editor of Glass's Guide, said: "For almost all of the models, the last year they were available to buy as new cars was 2006.
"The used-car market has been offering these models for many years and they have been overtaken by a younger generation of cars with more stylish, modern designs."
Copyright © Press Association 2009