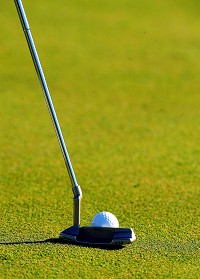 The world's longest golf course has been created on an Australian outback terrain best known for being one of the most arduous drives on the planet.
Spread across more than 1,365km on the vast Nullarbor Plain, the 18 holes will take up to seven days or more to play.
Golfers will need to drive long distances between the holes, some of which are more than 100km apart.
One of the biggest attractions of the par 72 course is the inevitable and often lively encounters with wildlife such as dingos and kangaroos.
The fourth hole at Nundroo is said to have the largest population of southern hairy-nosed wombats anywhere in Australia.
Players heading to the Dingo Den hole are warned about an errant crow which enjoys pinching stray golf balls.
Don Harrington, who was there at the creation, recalled he had the idea for a "golf course across Australia" emerged after a few bottles of wine.
He said: "From there the embryo was formed - and today, five years later, we're here and we've arrived. That's how it all happened."
Copyright © Press Association 2009