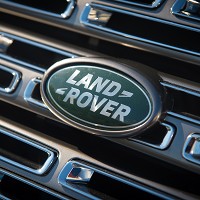 The world's first premium compact SUV convertible will soon roll off the production line in the UK.
No vehicle in the luxury crossover class has ever come with a soft-top option. It is thought the reason for this may be that few manufacturers in any crossover segment have found success with a convertible.
But Land Rover is hoping to buck the trend with the Range Rover Evoque Convertible, due to go on sale in spring next year.
Based on the existing coupe model, it comes with a folding fabric roof, which the British manufacturer claims is the largest in the industry.
The roof lowers in 18 seconds and rises in 21 seconds at speeds of up to 30mph. It folds away almost out of sight, with no rear pillar or cross bars visible.
If the car detects the possibility of an accident, support beams pop up from behind the rear headrests.
Land Rover says the absence of a fixed roof does not impact on the high levels of refinement associated with the Evoque, with a well-insulated hood and boot space of 251 litres. Prices will start from £47,500 on the road.
Copyright Press Association 2015