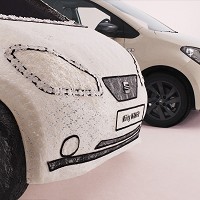 A car made entirely of lace has been unveiled by Seat at the launch of its new Mii by Mango model.
Embellished with a jewel trim, the full-sized Mii replica was built by eight specialists led by designer Ashley Joiner.
Over a period of three days, they constructed the car out of 45 metres of nude-coloured cotton lace - which was set in 25 kilos of resin - as well as 10 metres of black cotton lace and 70 metres of lace trimming with jewel embellishment.
Chris Stevens, head of marketing at Seat UK, said creating the world's first fabric car was the perfect way to celebrate Seat's partnership with fashion chain Mango.
Mr Joiner, a graduate of the prestigious Central Saint Martins in London, said he used lace to build the fabric Mii as it was currently "one of the hottest fashion trends".
He added that he was "absolutely thrilled" to have been involved in the project as it allowed to him to draw on both his film and design experience.
The real Seat Mii by Mango comes in either nude or black, with three or five doors, and is available from £10,995.
Copyright Press Association 2014