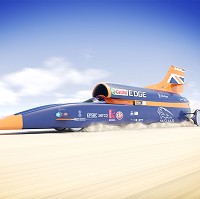 A land speed record-chasing supersonic car is to make its "slow-motion" debut at a Cornish testing ground at "only" 200mph.
Bloodhound SSC handlers hope the speed machine will eventually break the 1,000mph barrier on a South African desert track next year.
Before that, the team will be heading off to Newquay Aerohub within the next few months.
At top speed it is expected to travel a mile (1.6km) in only 3.6 seconds, thanks to thrust horsepower totalling an incredible 135,000. This is equal to 180 Grand Prix motors.
But the Cornish test will see Bloodhound travel at only around a fifth of its anticipated maximum speed. Its power plants include a Rolls-Royce-built EJ200 engine normally used by Eurofighter Typhoons, a V8 engine from Jaguar and a hybrid rocket cluster courtesy of Nammo.
The EJ200 was installed last autumn, a fitting which took its Bristol-based Bloodhound engineering team eight hours. The Bloodhound team will only know if breaking the 1,000mph mark as well as the 763mph world record could be feasible after the Newquay trial.
Winglets and airbrakes will be installed in the machine after the Cornish tests to facilitate high-speed testing at Northern Cape's Nakskeen Pan next year.
Further Bloodhound details are being kept under wraps until later this summer. The car, with its latest modifications, will be unveiled in Avonmouth this August.
Meanwhile, the Bloodhound team claims the speeding record is something that cannot be hurried. Richard Knight, the team's spokesman, hopes the car should hit 800mph while undergoing the South African tests, calling the process a "gradual" one which can't be rushed.
The current speed record holder is Andy Green, who set the 763mph mark 18 years ago in the Thrust supersonic car in the Nevada desert.
Green, now 52, will be behind the wheel of the Bloodhound.
Richard Noble, the car's project director, held a similar post while behind the Thrust SSC initiative. Noble was also behind the wheel of the Thrust 2, famous for breaking the record 32 years ago after hitting 633mph.
Copyright Press Association 2015