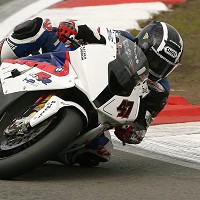 A superbike has been ridden underneath a car driving on two wheels around one of Silverstone's corners, in a world-first stunt.
The Kawasaki ZX-10R Ninja British Superbike was being ridden by pro bike racer Chris "The Stalker" Walker as it went underneath the special edition Alfa Romeo MiTo SBK, driven by stunt driver Paul Swift.
To complete "the undertaker" Paul flipped the MiTo onto two wheels and then drove round Brooklands bend while being undertaken by Chris on the ZX-10R in a move unlikely to be covered by any amount of car insurance .
It is thought to be the first time such a stunt has ever been attempted and it was staged to coincide with the UK launch of the MiTo SBK.
Alfa is the ongoing sponsor of the FIM World Superbike Championship, a collaboration that has led to the development of the special edition MiTo.
The SBK is powered by a 170bhp turbocharged 1.4-litre engine and is decorated with decals and a racing body kit, which includes side skirts, rear lower spoiler,18-inch alloy wheels and red Brembo brake calipers. It is only available in solid black with Alfa Red roof and mirror caps.
Copyright © Press Association 2012