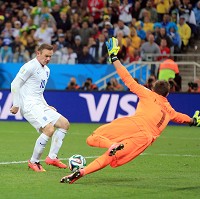 England may have crashed out of the football early this summer but their campaign still had a noticeable impact on the car market.
CAP found that visits to its website, which details driving costs and used car prices, fell by 60% during England's game with Uruguay, a 2-1 defeat.
For a short time at least, it seems England fans dropped interest in such day-to-day realities, but it took just over 24 hours for the figures to get back on track.
By the time it came to the 'dead rubber' goalless draw with Costa Rica, the impact on the CAP website was negligible.
The big surprise came the morning after the England-Uruguay match, says Mike Hinds, of CAP, who explains that fewer than half the usual number seemed keen to chase up car prices.
But it did bring a smile at CAP when there was no variation in website activity either during or following the game with Costa Rica, an indication that things were back to normal.
The study was carried out partly for the fun of it, and to check how site visits were going - seeing as dealers have often reported trade loss in major international sporting events, he added.
Copyright Press Association 2014