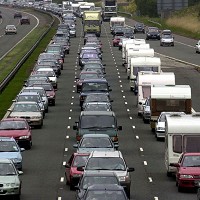 Work to improve the M5 is getting under way in Devon, as part of a major Highways Agency pinch-point scheme.
Junction 30, four miles east of Exeter, suffers from heavy congestion and delays during peak periods.
The exit slip road on the southbound side will be widened to four lanes on its approach to the roundabout, helping filter traffic off the motorway.
"Intelligent" traffic signals will also be introduced at the roundabout, meaning traffic will be managed according to where build-up is the greatest.
Work on the £1 million scheme, which got under way on Sunday, is expected to be complete in the spring, according to Highways Agency project sponsor Dave Stock.
The South West region will also benefit from 13 other such schemes, which are part of a Highways Agency drive to introduce small-scale changes which tackle congestion and improve journey times for drivers.
Copyright Press Association 2015