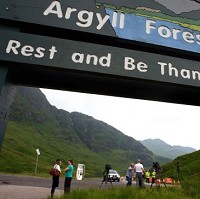 Construction work has begun on building an emergency diversion route at a landslip-prone trunk road in western Scotland.
A thinktank was put together to tackle landslip closures on the Rest and Be Thankful section of the A83 in Agyll after torrential downpours triggered debris to block the road earlier this month.
Torrential downpours caused more than 1,000 tonnes of mud and rock to slide onto the road for the second time this year, as motorists faced diversions of up to 50 miles to get to their destination.
Government agency Transport Scotland wants to use an old military road below the A83 as a diversion route, although discussions to obtain the land are still ongoing.
Transport Scotland said the wider road and the lack of steep slopes surrounding the old military route would make it the ideal place an emergency route and lower the risk of drivers potentially claiming on their car insurance .
Should transport officials fail to reach an agreement with the owner of the land surrounding the disused military route, attention is expected to turn to a nearby forest track despite the tougher terrain.
Copyright Press Association 2012