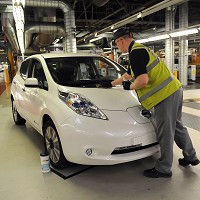 The stereotype of women being attracted to men with expensive cars has been dismissed by a new survey, which suggests they actually prefer drivers of 'green' cars.
A Motors.co.uk poll found that more than half (53%) of women find drivers of sports cars arrogant, while 44% find them self-centred and 38% even consider them a danger on the roads.
Of the 2,000 adults questioned in the survey, 48% of the men were convinced that an expensive car still makes them attractive to the opposite sex.
Many women find drivers of eco-friendly cars such as the Nissan leaf and Toyota Prius to be conscientious, intelligent and safe motorists.
Women feel owners of saloon vehicles such as the Ford Mondeo, Renault Megane and Volkswagen Passat are likely to be hard-working and safe motorists, while hatchback motorists are considered modest. For men, 34% feel off-road 4x4 drivers are arrogant, and 29% say they are rude.
Motors.co.uk commercial director Phil Jones said the survey provides an "interesting snapshot" with the bad-boy sports car stereotype still holding true.
Mr Jones added: "The disparity between men and women suggests that the yummy mummy 'Chelsea tractor' stereotype might be having a similar effect on men as sports cars appear to be having on women."
Copyright Press Association 2013